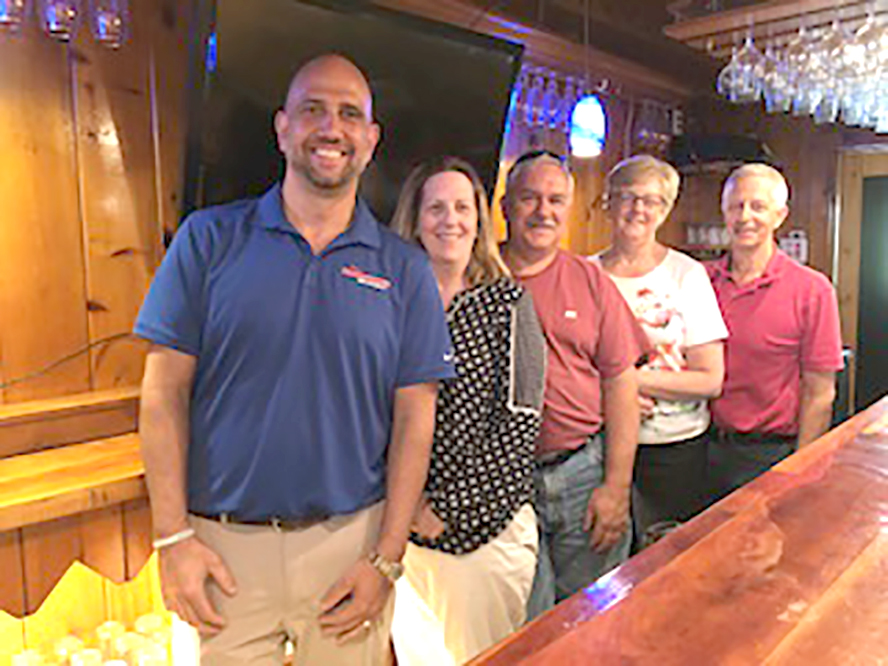 By Jill Nagy
Five couples, longtime friends with ties to the Village of Whitehall, have purchased the former Roma Restaurant at 209 Broadway  (Route 4) in the village and plan to "reopen the restaurant and give it back to the community," said one of the new owners, Cheryl Putorti.
The restaurant has had a succession of owners since opening as Roma in 1927 and has been vacant for more than two years. 
The property was foreclosed upon and sold at auction for $71,000. 
Putorti said she and her friends had been thinking about buying the restaurant for some time, but the asking price was too high. When they heard about the auction, they made up their minds to bid on it. The group was one of two bidders at the auction.
"There is a great deal of work to do" before the restaurant can reopen she said, noting that the roof leaks, water pipes need updating and "the kitchen must be completely revamped."
While the new owners are formally known as Roma of Whitehall, LLC, they are sure of one thing: the new restaurant will not be called Roma. 
"We don't want people to come in and expect the restaurant of 20 years ago," Putorti said. They plan a combination taproom and lunch and dinner restaurant with more salads, sandwiches and "healthy items" than in previous incarnations of the restaurant, she said. 
But the menu will include some "Roma classics,"  probably pasta dishes and pizza.
People are already coming by when they see the doors open, Putorti said
"We tell them to come back in six months" she said.
One 81-year-old former customer who came to visit was disappointed to learn that the place is not yet open for business but promised to be there the day they do open.
The new owners come from a mix of professional backgrounds. Putorti and her husband, Francis, own the Putorti Broadway Market, a longtime Whitehall landmark. Francis bought the market from another family member when he was 19 years old and Cheryl began working there when she was in high school. 
Francis's brother, Michael Putorti, another partner, is a retired corrections officer and his wife, Ruth, works at the Washington Correctional Facility in Comstock. Eric Ross owns Hometown Chevrolet and his wife, Laurie, is a bartender and waitress at O'Toole's. Tom Abbott is an insurance agent and his wife, Patti, is the faith formation chair at the Lady of Assumption Church. 
Dan O'Rourke is a cardiologist in Hanover, N.H. He and his wife, Debbie, are the only members of the partnership who no longer live in Whitehall.
Laurie Ross is the only member of the group with any restaurant experience. Cheryl Putorti, however, pointed out that their Broadway Market has a deli department and they do catering, as well make ice cream and pizza. 
"I do a lot of cooking," she said. 
"It's going to be a long journey," said Putorti.  "We know the restaurant business is up and down. We don't expect to make a fortune." 
They do have one important factor in their favor. An average of 15,000 cars go through Whitehall every day traveling on Route 4, driving right by their restaurant, she noted.
Plans are to hire a chef and a manager and between 15 and 25 other employees. The new owners will oversee the operation and run the business end. She expects that at least one of the group will be in the restaurant everyday. 
The Putortis plan to sell the Broadway Market and devote their time to the new endeavor.
"We all love Whitehall. We all have our hometown connection and we're excited about our new adventure," he said.