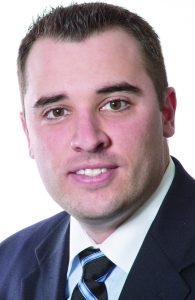 By Jill Nagy
Customer service is important to any business, including banks. So keeping up with the latest in technology is important, as banks compete to retain and draw customers.
Online apps that allow customers to make deposits, move money to other people's accounts, as well as check their own accounts; ATM's that accept cash deposits and return a photographic record of a check deposit; and branches smaller and more streamlined that offer a range of financial services, including insurance and investment services, are all services banks now offer.
To eliminate telephone customers waiting "on hold," Saratoga National Bank has made employees more available with direct lines and company-issued cellphones. Customers can reach them easily and anytime, said David DeMarco, the bank's CEO. If a person calls Saratoga National's main line,DeMarco's voice answers and the automated system quickly transfers the caller to a human being, he said.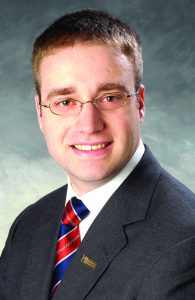 The cellphones make the bankers available around the clock. "The days of 'bankers' hours' are long gone," he said. "Working and personal lives are intertwined."
Adirondack Trust Co. "reimagined the old teller line concept" when they rebuilt the Wilton branch, said Charles Wait. Jr., executive vice president of the bank.
Teller stations have desks at two levels, he explained, so customers can do their business either standing up or sitting down. The newly decorated branch has "almost a lean-to aspect," he said.
The Exit 11 branch in Malta has a community room with a coffee machine for people who "get tired while walking around downtown." That building is also designed with "green" features: double insulation, recycled materials and solar panels, he added.
If a customer its too busy to come to the bank, the bank employee will go to the customer's place of business or home, said Marc Monahan, Glens Falls market executive with NBT Bank. "We try to be as accommodating as we can for all of our customers," he said, adding that NBT is a "relationship bank."
Increasingly, however, there is less and less reason to physically visit a bank these days. Just about anything, except picking up or depositing cash, can be done using a smartphone. Enhanced ATMs will accept cash, without an envelope or deposit slip. When customers have a check for deposit, the ATM it will return a photograph of it. Similarly, a customer can take a picture of a check with a smart phone and deposit it remotely.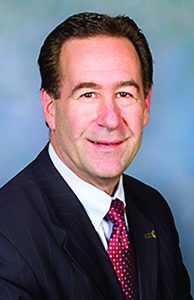 "We are trying to stay up-to-date with technology," Monahan said. But personal service is still important. Therefore, drive-through and office hours are extended at some branches.
In some cases, it is relatively small things that can be hits with customers. Adirondack Trust, for example, has coin machines in its branches. They are free for customers and, Wait said, very popular.
Wait especially likes the photo deposit feature of his bank's app.
"I can sit on the balcony and deposit checks," he said. Adirondack Trust also makes use of social media, sending messages to customers that help make things convenient—for example when a branch closes because of a storm.
Insurance policies, including cyber insurance and drone insurance, are available at the bank sites, through insurance subsidiaries.
Saratoga National offers "telepresence," connecting the branches with a Skype-like system. Therefore, if a customer comes into a branch when the insurance salesperson is away, the customer can connect with another branch and take care of that transaction. The remote officer will appear on a television-like screen.
"It's been very helpful to us as we have grown," DeMarco said. It is also used for staff meetings as well as for customers
Saratoga National is also bucking the trend toward fewer physical branches. They have added one branch per year for the last six or seven years, many of them in buildings abandoned by other banks.
"We are going to continue to look to expand," he said, "The Capital Region is a big place."