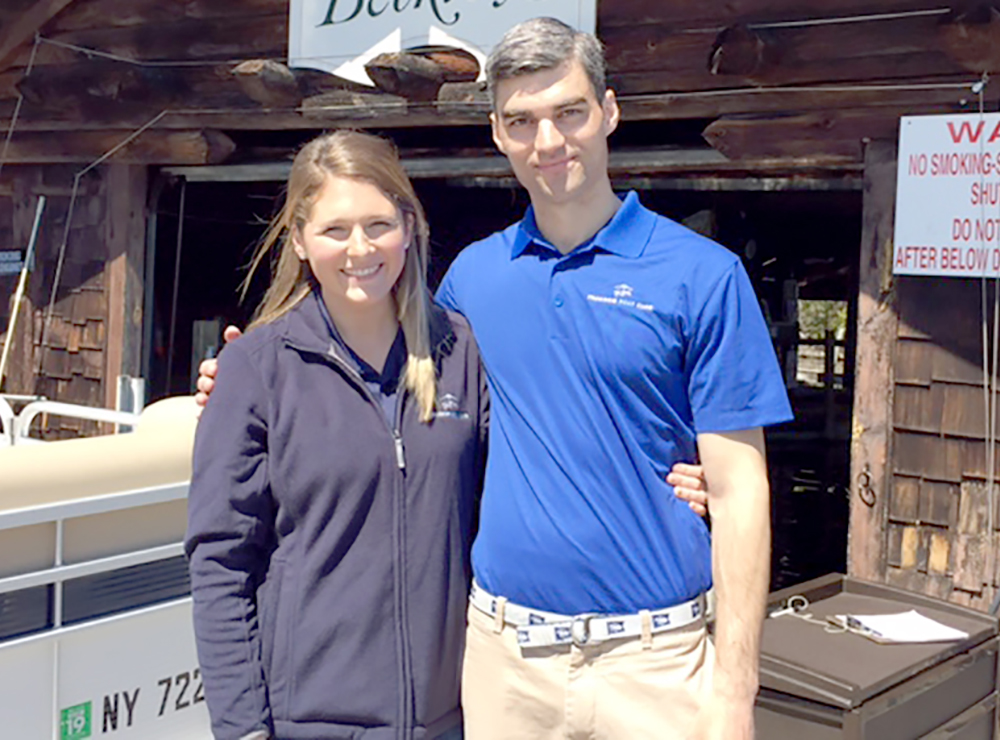 Matt and Rebecca O'Hara, the owners of the former Dunham's Bay Marina on Route 9L, Lake George, officially announced Queen Boat Co. as the new name and brand identity for their business.
The couple, who also own and operate Freedom Boat Club of Lake George, said the move is a key step to better reflect a new, more comprehensive vision, service offerings and amenities beginning this summer.
"Boaters are expecting more out of their marina in 2019 and it was obvious we had a lot of physical work to do on the property to meet these expectations," said Matt O'Hara. "As worked commenced, it sparked the need to refresh the personality of the marina to better reflect this evolution, as well as our commitment to providing a high-level of customer service. We wanted a new name and identity that called to mind the iconic nature and history of our beautiful lake, yet also put our dedication to red-carpet service at the forefront."
The couple bought Dunham's Bay Marina last fall.
Normandin Marketing of Glens Falls led the brand development effort, which included the new name and company logo.
"Matt and Rebecca are visionaries," said George Normandin, president and creative director of Normandin Marketing. "They approached our team with a clear vision and a polished set of goals, making the process efficient and quite enjoyable. These are two quality driven people with customer-first service at the forefront of their brand standards.
"The future is very bright for Queen Boat Co. and we are grateful for the opportunity to work with such terrific people."
The O'Hara's will bring their Freedom Boat Club franchise to Queen Boat Co. after operating at Beckley's Marina on Diamond Point since 2016. The new location will allow them to grow their fleet to 12 boats this year, including Bennington and Sweetwater Tritoons, Regal crossovers, Four Winns Deckboats, and new this year, a Cobia Center Console, the O'Haras said.
Additional services offered at the marina this summer will include Tracker Boat sales, Torqeedo Electric Motor sales, a fuel dock offering non-ethanol fuel, and a revamped service department, and ship's store.
Initial work on the property begins with the replacement of the fuel tank and pump, and upgrades to the wastewater and stormwater management systems, the owners said.
They hired Phinney Design Group in Saratoga Springs to develop a master site plan, which includes new amenity and revenue concepts.
In addition, Maryellen Moseman was promoted from director of operations of the Freedom Boat Club Lake George to director of operations of Queen Boat Co., with responsibilities including oversight of staffing, retail store operations and the Freedom Boat Club member experience. Adam Riley is the new service manager.
Queen Boat Co., located at 10 Dunham's Bay Road, Lake George, is a full-service marina featuring the Freedom Boat Club Lake George, Tracker Boat Sales, Torqeedo Electric Motor sales, a ship's store, fuel dock, service department, and boat storage, and more to come.
For more information visit www.queenboatco.com or www.freedomboatclub.com.