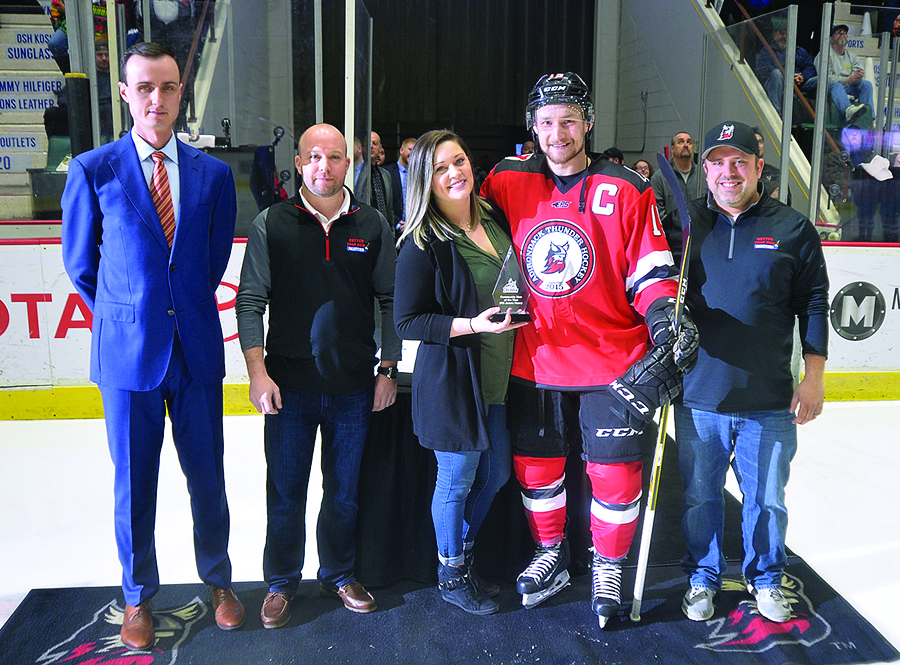 James Henry of the Adirondack Thunder hockey team was selected as the recipient of the 2018-19 ECHL Community Service Award.
Each ECHL team was given the opportunity to nominate a player for their efforts supporting community and charitable causes during the 2018-19 season.
The nominations were voted on by league office personnel.
As a year-round resident of Glens Falls, Henry is an integral part of the Thunder's community outreach throughout the year, team officials said. Last summer, he attended events at Saratoga Polo, delivered tickets to corporate sponsors including the Glens Falls Youth Center and sampled food at Taste of the North Country while representing and promoting the Thunder.
During the season, he was in four different schools as part of the team's reading and Good Move programs, showcasing the benefits of healthy eating, daily physical activity and good sleep.
Each year, along with his wife Ashley, they select a community initiative to try to benefit to the best of their abilities. This season, from some of their past personal experiences, the Henry's chose Mission 22, which aides in the prevention of veteran suicide. Through their ideas, which included a Mission 22-themed warmup jersey auction, the Thunder donated over $7,500 to Mission 22.
The other nominees for the 2018-19 ECHL Community Service Award were: Gary Steffes (Allen), Nathan Todd (Brampton), Justin Vaive (Cincinnati), Ben Masella (Florida), Jamie Schaafsma (Fort Wayne), Travis Howe (Greenville), Mitch Moroz (Idaho), Mathew Thompson (Indy), Eli Lichtenwald (Jacksonville), Jimmy Mullin (Kalamazoo), Rocco Carzo (Kansas City), Louie Rowe (Maine), Nic Pierog (Manchester), Todd Skirving (Newfoundland), Ty Reichenbach (Norfolk), Andrew D'Agostini (Reading), Patrick Megannety (South Carolina), Tyler Spezia (Toledo), Steven Kaunisto (Tulsa), Taylor Richart (Utah), Aaron Titcomb (Wheeling), Tyler Elbrecht (Wichita) and Connor Doherty (Worcester).