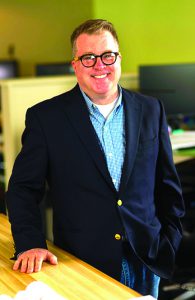 By Jennifer Farnsworth
This is a corrected version from 5/15/2019
Michael Murray can be found at AJA Architecture in Glens Falls. He is responsible for the business development at the architectural firm.
Murray has an architecture degree from New York Institute of Technology and has worked on the technology-side of the business for several architecture firms for most of his career. At some point, he said he realized he was more of a "computer geek" than an architectural designer. He started as a CAD (computer-aided design) manager for an architecture firm in Colorado, and that lead him to the field of technology consulting.
"I led a team of talented technical people and helped those architecture firms become more effective with their use of technology, allowing them to be much more efficient, and more productive," he said. "It was very rewarding work, but I was also working way too much. Lots of long hours eventually had me burned out on the technology."
Murray eventually found himself working as marketing consultant where he assisted architecture firms with their marketing needs.
"The pace of consulting worked much better for me, still very rewarding work, but not nearly as many long hour days," said Murray.
At that point, Murray said a friend and architect talked to him about his plan to open an architecture firm, known today as AJA. Murray said he jumped at the opportunity to work on both the technology and marketing side of the business.
"Today, nearly six years after he started the firm, I now head the business development and marketing for the firm of nine talented architects, designers, and support staff," said Murray.
The future of the industry, Murray said, is all about networking and getting the firm known to the right people. He said AJA specializes in hospitality projects, with most of the new projects being referrals.
"We pride ourselves on the good reputation we've earned and my challenge is to network as much as possible to find the clients that could most benefit from our services. We have a strong web presence with both our new website and our consistent social media activity, but the face-to-face meetings we have with potential new clients are what really bring in the new work for us," said Murray.
The firm, Murray said, is a good mix of local, regional, and international projects from high-end boutique hotels, to visitor centers with both New York state Parks and the National Parks System, to master planning for colleges and universities, to high-end residential homes.
"It's rewarding to have this variety but all of our projects have one thing in common: We design for the experience and meaning, all of our designs are very people-centric, where the people who will inhabit or work or visit the spaces we designed, are thoughtfully consider, as they are the ones most impacted by the design," said Murray.
AJA's local projects include the restoration of the Park Theater, in Glens Falls several pro bono projects—for the Cool Insuring Arena, and the Open Door Mission.
"In addition, we regularly assist local investors and potential buyers of buildings in this area by doing a feasibility study to be sure the buildings will satisfy their needs," said Murray.
One of the clients Murray said they are most proud of is the historic Grove Lodge at Mohonk Mountain House, in New Paltz. Mohonk is a resort 90-miles north of New York City and has been family owned for nearly 150-years.
Learn more about AJA architecture at www.AJAarchitecture.com.