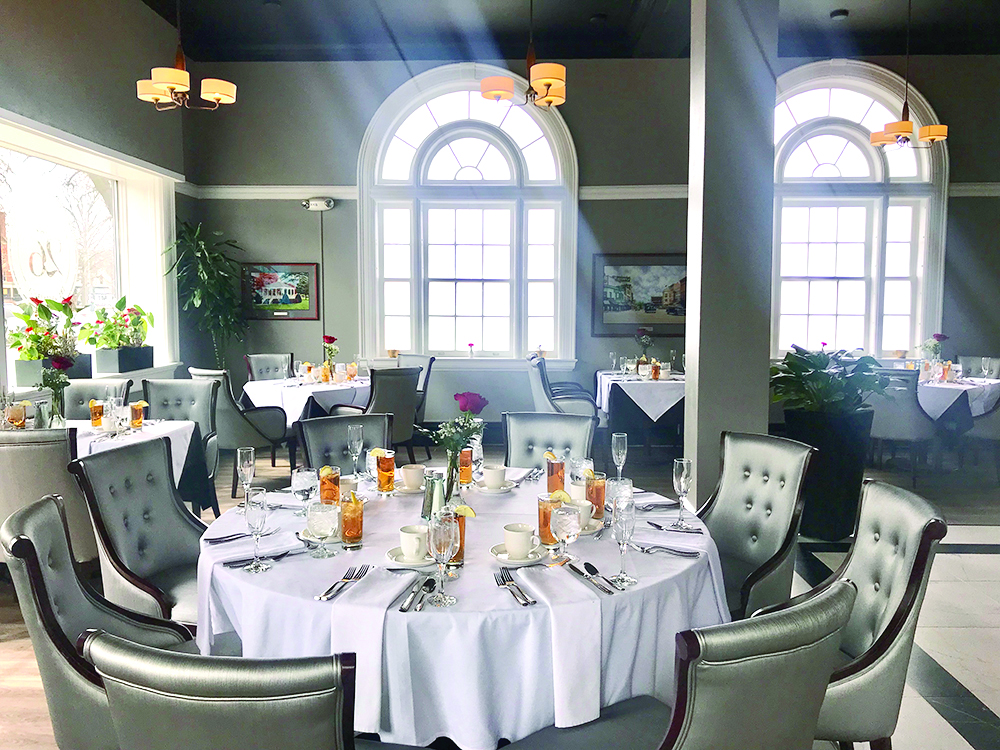 The Fenimore's Pub at the Queensbury Hotel, a gastro-pub style restaurant, will undergo renovations this summer with work beginning in July.
Phinney Design Group of Saratoga Springs, who has been involved in many of the property's renovation projects since 2016, will lead the re-design. Ownership anticipates the project will take about six weeks, during which the pub will be closed.
"This design change will be subtle, yet create a new feel in an already popular space," General Manager Tyler Herrick said. "The concept of a casual study and lounge environment will remain, however a redesigned seating banquette, updated wall coverings, lighting and new furniture will breathe fresh life into the space."
Fenimore's will also introduce a new summer menu under sous chef Stephen Hoffman's direction that will launch right before Memorial Day weekend.
The Queensbury Hotel also added Colin Miner to their culinary team as chef de cuisine of restaurant Park 26 as renovations near completion.
Miner has an extensive resume that includes experience from The Inn at Erlowest and The Lake George Club to the Saratoga-based DZ restaurant group and Chicago-based restaurant Grace. He will focus on menu creation for Park 26 and elevating the guest culinary experience.
"When the opportunity of bringing on a young, motivated, passionate culinarian presented itself the decision was simple: Yes. Colin brings with him new ideas, different techniques and a renewed energy to our existing culinary team. He has plans of house made breads, butters, ice cream and desserts, combined with unique dishes that will intrigue and satisfy any palate," Herrick said.
"My menu concepts always come from very familiar flavor combinations. However, through the techniques I've gained over the years, I try to elevate and recompose those approachable flavors. I'm currently working on a s'mores tartlet, but I hope to compose it in a way that wows the guests with unexpected nuances," Miner said. "The Park 26 menu will be designed to fit the downtown culinary scene. I never like to say "fine dining", but more so elevated casual dining. I'll gladly serve a burger and fries, alongside foie gras and lobster.
Park 26 opened its doors in November 2017, just a year and a half after local businessman Ed Moore purchased the hotel and Spruce Hospitality Group began managing the property. The restaurant overlooks City Park, has a large bar area, offers outdoor patio seating seasonally, can host private events and underwent renovations and a design refresh in the fall.
"We are so pleased with what the culinary team at the Q has been able to accomplish over the last three years since we purchased the hotel. We're grateful for the opportunity to complement, while also diversifying our offerings," said Zack Moore, managing partner of Spruce Hospitality.
Park 26 is open daily for breakfast and lunch and currently serves dinner Thursday-Saturday nights. With the addition of Miner, the restaurant will add dinner service on Wednesday nights beginning on June 5.
Herrick said that day "will be the official kick off to Colin's new summer menu and our new dinner service schedule. It coincides nicely with the start of the weekly 'Take a Bite' event across downtown and our Park Patio Music series which will make its return this summer as well."
Miner joins executive chef Michael Crandall, executive sous chef Dan Mattocks and sous chef Stephen Hoffman to round out The Queensbury Hotel culinary team.
"This addition will enable our executive sous chef to take a greater role in our banquet department by working alongside executive chef Michael Crandall, developing new offerings, enhanced displays and elevated presentations to each function and special event we host," Herrick said.