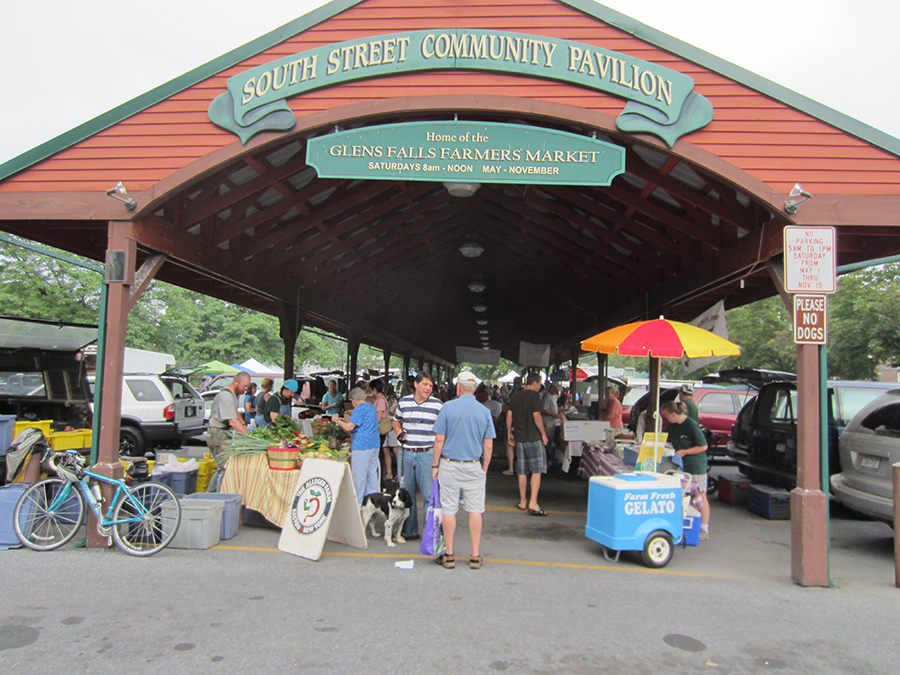 The 43rd annual Glens Falls Farmers' Market outdoor summer season is up and running at the South Street Pavilion in downtown Glens Falls.
The opening event was held May 4 with 35 market vendors, live music and events for kids.
Officials said new to the outdoor market this year is a table with activities manned by the Friends of the Glens Falls Farmers' Market, a new nonprofit formed to support and enhance the market.
The Glens Falls Farmers' Market Association has been bringing locally grown, produced and crafted products to the communities surrounding Glens Falls since 1976. It is open each Saturday,
The market offers apples and cider, artisan crafts, breads and baked goods, body care products, cheeses, cut and potted flowers, dairy products, eggs, herbs, honey, hydroponic vegetables, jams, meats and seafoods, prepared foods, seasonal vegetables, sharpening service, syrups, wine and spirits and more.
Current vendors include:
Adirondack Aromatherapy, Adirondack Wood Artisan, Adirondack Country Gourmet Coffee, Alchemy Bagel Cafe, Argyle Cheese Farmer, Barb and Tom's Grill, Battenkill Valley Creamery, Blue Boot Farm, Buddy's Barkery, Butternut Ridge Farm, Dickinson's Delights, Fresh Take Farm, Gifford Farms, Grazin' Acres Farm, Humiston's Vegetables, Lake George Distilling Company, Mister Edge Sharpening, Nettle Meadow.
Northeast Corner Herb Farm, Onda Farm, Pa's Pistols Sweet Hickory Sauce, Pleasant Valley Apiary, Pleasant Valley Farm, Puckers Gourmet, Pura Vida Fisheries, Pure-N-Simple Soap, River 'Rangements, Saratoga Apple, Saratoga Chocolate Co., Shushan Valley Hydro Farm, Tangleroot Farm, The Alleged Farm, The Food Florist, Upper Hudson Coffee, VegCafe at the Market
For more information, visit www.glensfallsfarmersmarket.com, email marketing.gffm@gmail.com, or call market liaison Eric Jenks at (518) 577-7354.
For customer convenience the GF Farmers' Market has reusable bags for sale as well as a credit/ EBT machine used to purchase Market tokens.