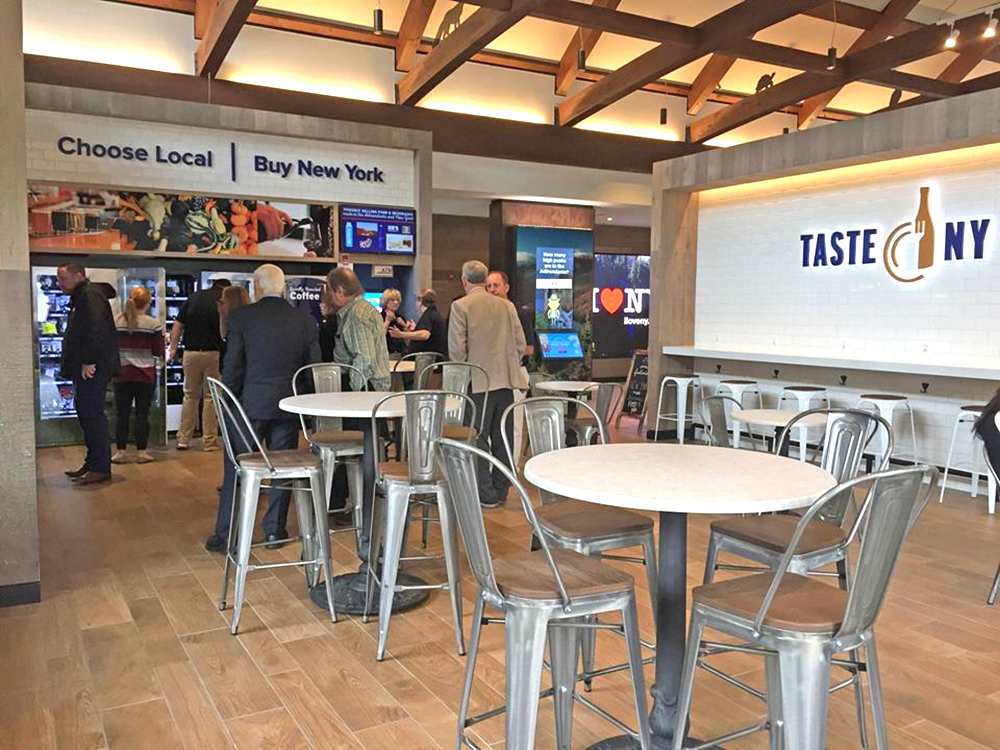 New York state and local officials celebrated in late May the official opening of the state's latest boat wash station, this one in Queensbury.
It is part of the state's comprehensive efforts to prevent the spread of invasive species.
The recently completed Adirondacks Welcome Center on the northbound side of the Northway, between exits 17 and 18, in Queensbury is said to be the state's most advanced boat inspection and decontamination station.
The Welcome Center site is the first boat inspection station built into a highway rest stop in New York and is located at a critical entrance to the Adirondack Park that will help prevent the introduction and spread of aquatic invasive species, officials said.
The opening coincided with the yearly deployment of boat stewards and decontamination efforts at public boat launches across the state.
"New York is taking aggressive actions to protect our state's invaluable natural resources, recreational assets and fish and wildlife habitats from invasive predators to ensure our environment remains sustainable, healthy and strong," Gov. Andrew Cuomo said. "This new state-of-the-art boat inspection station at the Adirondacks Welcome Center will provide visitors with easy access to inspect and wash their boats before entering the state's waterways."
State Sen. Betty Little said the center's ease of access right off the Northway "makes it an ideal place to make sure your boat is clean and ready to use, free of invasives. And my hope is that not only will we see this boat washing station used a lot, it's also going to serve as a reminder to all boaters that preventing the spread of invasives requires everyone's cooperation and diligence. It doesn't take a lot of effort to keep a very costly problem out of our lakes and rivers."
"It is critical to continue to protect the pristine waters of the Adirondack Park and to ensure that our ecosystems remain healthy and strong," said state Assemblyman Dan Stec. "Providing this important boat washing station is the necessary mechanism in achieving our goal of educating our boaters and keeping our waters clean of harmful invasives."
The new Welcome Center features an Adirondacks Walk of Fame leading to an 8,615-square-foot, LEED certifiable building, which is designed in a classic Adirondack theme and offers parking and restroom facilities.
The building has a host of environmentally friendly features, including geothermal water source heat pumps for both heating and cooling the building, LED light fixtures, electric car charging stations, recyclables collection, water efficient landscaping and energy efficient windows and doors.
It contains I LOVE NY interactive kiosks, which highlight regional attractions and tourism destinations. It also features an Adirondacks floor map and an I LOVE NY selfie wall with a decommissioned ski chairlift from Gore Mountain Ski Resort. For family travelers, an outdoor children's play area with a zip line is available, along with a pet comfort area, free Wi-Fi, cell phone charging stations, picnic tables and Adirondack chairs. Food and beverages sourced from the region and other locations in New York are showcased in vending machines.
The new station is a dedicated site built into the rest area and features permanent sheds for staff and equipment, a built-in boat washing pit and water collection system and two decontamination units, one of which is electrically operated.
Multiple boat stewards will be stationed there throughout the summer. The total cost of the boat wash station was approximately $650,000.
Boat stewards are volunteers or paid members of the community that provide boaters and other water recreationists with important information about how they can reduce the likelihood of spreading AIS. The stewards teach the public how to inspect, clean, drain and treat their watercraft and equipment. Stewards also ask where boaters last launched and can sometimes determine what invasive species are found in the lake or pond visited through the iMapInvasives, the state's invasive species database.
AIS are non-native aquatic plants and animals that can cause harm to the environment, economy and human health. One of the main pathways for transfer of AIS between water bodies is recreational water vehicles and equipment, including boats, canoes, kayaks and jet skis.