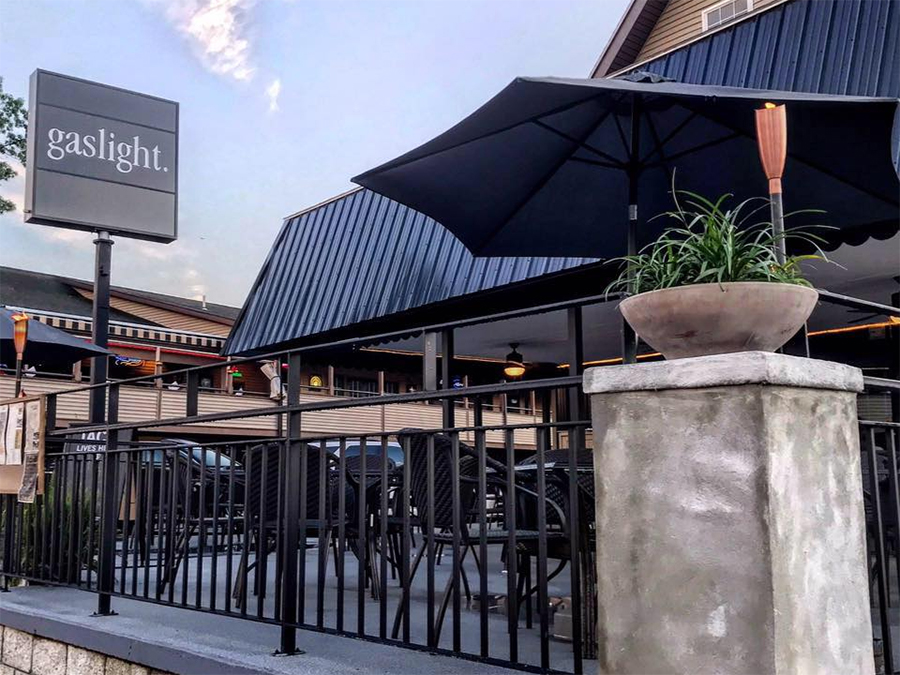 By Jill Nagy
Gaslight, Frank Mineo's new Mediterranean bistro in Lake George, continues a family restaurant tradition that traces back to his great grandfather, Danny Jordan.
"I thought I'd get back to my roots," Mineo said.
The restaurant is located at 91 Canada St. in Lake George, next door to his mother's DJ's  Nightclub and on property formerly occupied by Great Grandpa's Papa Wow's.
The kitchen is headed by executive chef Ray Bohmer, who also has a bit of a local history. He cooked at the Sagamore and other area restaurants and then worked as a butcher for a wholesale grocer. Mineo said, "He wanted to get back in the game."
Bohmer will also continue butchering at Gaslight.
Some of the chef's signature dishes are scallops ("seared perfectly, so they are crisp on the outside and creamy inside," Mineo said); a dish of pork belly strips called Lechon, and a 16-ounce cote de boeuf, a thick cut steak that takes seven days to process.
To live up to its Mediterranean label, the restaurant will trend toward Italian, Greek, and French cuisine.
The menu also includes craft cocktails featuring pureed fruits. Mineo especially recommends the grilled pineapple jalapeno margarita. For those who prefer their liquor straight, he said there is "an extensive bourbon lineup," including brands like Buffalo Trace.
He plans to feature local distillers, including Spring Brook gin and bourbon, Pick Six vodka, High Peaks Scotch and bourbon, and One with Life organic tequila. Once the taps are installed Gaslight, will also offer a rotating selection of local beers.
"We will try to source as much locally as possible," food as well as drinks, including Vermont cheeses, he said.
Plans are to keep the restaurant open all year round. In winter, Mineo plans an ice bar and fire pits on the patio.
For large events like weddings, Mineo pictures teaming up with his mother, Deb Jordan. Guests can have cocktails at DJ's Nightclub and then drift next door to Gaslight for dinner.
Despite the pull of family history, Mineo almost did not end up with a restaurant in Lake George. Plans fell through for a place called Bistro Talulah in Glens Falls when the prospective executive chef went elsewhere.
For now, Gaslight is open every day from 11 a.m. to close, Mineo said. When they see how traffic flows, he may decide to close one day a week.
Regular dinners are served  from 5-9 p.m., with a late night menu until midnight.
The telephone number is 518 685-3487.