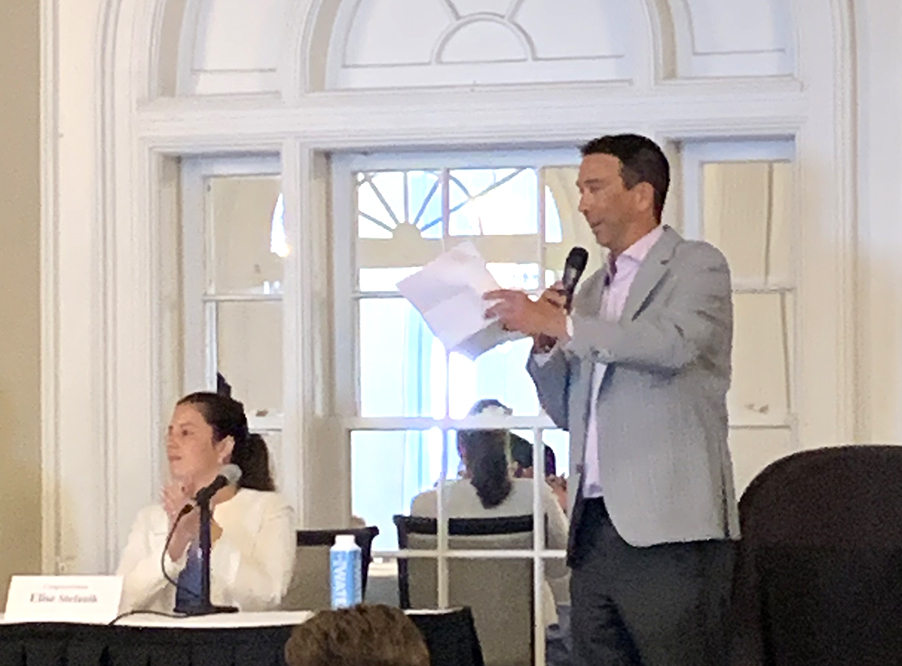 By Andrea Palmer
"It's a new day in Albany, There are only 3 Upstate New York members in the senate majority," state Assemblywoman Carry Woerner, said at an Aug. 1 event at the Queensbury Hotel. "We struggle to have the needs of Upstate New York recognized in Senate, especially issues related to agriculture. This is the year we learn to adapt to a new way of working."
Woerner was one of the speakers at the second annual Lunch with Legislators hosted by the Adirondack Regional Chamber of Commerce.
Also on the panel were state Sen. Betty Little, U.S. Rep. Elise Stefanik and state Assemblyman Jake Ashby.
Woerner said it is more important that business people come to Albany to advocate for their priorities. With emphasis on downstate issues, grassroots support is needed.
The recently completed legislative session in Albany was the first time in a decade that the Democrats were in control of both chambers.
Woerner also addressed health care, saying "The rural healthcare system is fragile to failing. We must address this. My focus will be coming up with practical solutions to these problems over the next year."
Said Little, "In no state does the governor have more control than (Gov. Andrew) Cuomo does in New York." Cuts were made to the highway fund, and no funding was allocated to Lyme disease. Last year, $1 million in funding was allocated to Lyme disease.
On the federal level, key legislative priorities included the Farm Bill, which was passed in December. The bill is revisited every 5-6 years. Much of Upstate New York's economy relies on agriculture. The North American Free Trade Agreement (NAFTA) was updated, broadening the ability of farmers to sell dairy in Canada.
"The Farm Bill is a good example of bipartisanship and working together," said Stefanik.
"Healthcare continues to be a challenge," said Stefanik. "One bright light is bipartisan success on the issue of surprise billing. We want this addressed by the end of the year."
Stefanik cited $750 million allotted to regional economic development councils in support of grants, particularly in rural North Country healthcare. Hudson Headwaters recently received a grant enabling them to maintain a presence at the hospital in Ticonderoga.
"Infrastructure is a priority that needs attention, especially in rural areas," said Ashby. Injury to multiple workers at manufacturing facilities in the North Country could quickly turn into a crisis if there are not hospitals nearby to address emergencies.
Woerner said Agricultural issues are a big focus. She sponsored a bill that required food labeled as local to be grown locally.
"If it says it's 'made locally,' it must be made in the state of New York. Not everything is. A product might be advertised as 'made locally', and it is made locally somewhere—just not local in New York," said Woerner.
Woerner said she helped restore funding that was cut from agricultural programs.
An audience question was posed regarding broadband for Warren County.
"It takes time, and it's difficult in rural areas," said Little. "People don't want Hughes Internet, and Verizon isn't as involved in rural areas. We also have issues with cell phone coverage in the North Country."
"At a Federal level, I support the Broadband For All Act, prioritizing broadband coverage in rural communities," said Stefanik. "Incrementally, we are covering more communities every year. It's a long-term challenge."
Another audience question was posed about minimum wage and living wage, and if there were plans to address it on the state and federal level.
"A big solution to this would be rolling back taxes and regulations," said Bittel. This would presumably leave more money in the pockets of the earner. The ARCC officially does not support an increase in minimum wage."
"We need to grow the economy to make sure we have the best education and training programs available," said Little. "That's the best way to ensure economic stability in this area. An increase in minimum wage is detrimental to businesses, particularly in the hospitality field."
"When we're talking minimum wage, we're not talking about merit pay," said Little. "Overall, costs are enormous. We need a training wage, and educational opportunities for people to then move into more skilled, higher paying jobs."
Ashby gave an example of a summer camp in Cambridge, which employs many students over the summer. An increase in minimum wage would increase costs to the camp, which would increase costs to campers and make participation unaffordable for many.
"The challenge is to prepare people for better paying jobs than minimum wage. This involves training, career and technical education. It also requires a recognition that the higher paying and higher skilled jobs may not be located in rural regions," said Woerner.
Little referenced the opioid crisis, stating numbers of overdose were decreasing. Little also referenced a new bill that would possibly give a tax credit of up to $2,000 to a business employing a person who is actively in rehab for drug use.