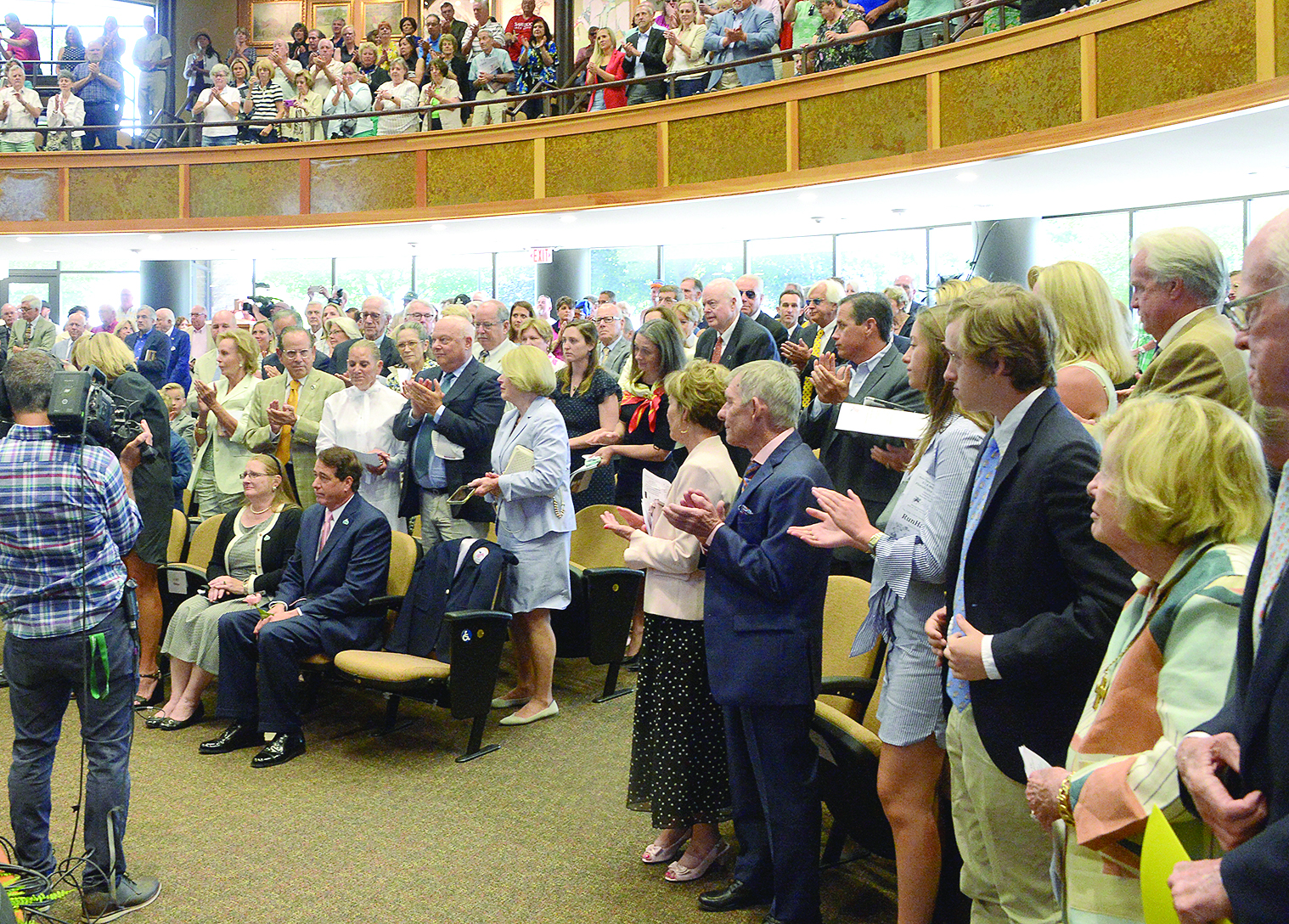 The New York Racing Association, Inc. (NYRA) are honoring the legacy of esteemed thoroughbred owner and breeder, celebrated philanthropist and National Museum of Racing and Hall of Fame inductee Marylou Whitney, who died at the age of 93 on July 19.
In tribute to Mrs. Whitney's passion, commitment and dedication to both racing and the community, the Clubhouse entrance at Saratoga Race Course, which serves as the gateway to the Spa from Saratoga Springs, was officially be named the "Marylou Whitney Entrance."
Flanking the entrance are two jockey statues adorned in the Eton blue and brown silks representing the classic colors of Marylou Whitney stables. The statues commemorate the 2004 victories of Mrs. Whitney's colt Birdstone in the Belmont Stakes and Travers Stakes.
Mrs. Whitney was inducted into the National Museum of Racing and Hall of Fame on Aug. 2.
NYRA formally celebrated Mrs. Whitney at Saratoga Race Course on Aug. 3, in conjunction with her family's namesake race: The Grade 1, $1 million Whitney Stakes.
"Marylou was integral in making our summer meet at Saratoga the success that it is today. It is truly fitting to have her name serve as a warm welcome to the many racing fans who pass through our Clubhouse gates each summer," said NYRA CEO and President Dave O'Rourke. "Marylou's impact on racing and the community as a whole cannot be overstated. She was a passionate horsewoman who demonstrated unmatched generosity and grace. We look forward to honoring her memory while celebrating her many contributions to the Spa."
The City of Saratoga Springs announced plans to rename Centennial Park for Mrs. Whitney which will now be known as "Marylou Whitney Park." Located at the base of Union Avenue, the park is home to the statue of Native Dancer. The park was built in 2015 with funding provided by Mrs. Whitney and her husband John Hendrickson, who commissioned the statue of Native Dancer and donated it as a gift to the residents of Saratoga Springs.
"Marylou Whitney is synonymous with everything that is Saratoga Springs: the Saratoga Race Course, its backstretch, the Canfield Casino and Saratoga Hospital, to name a few. Whether grand giving or anonymous donation, her generosity to this region knew no bounds," said Saratoga Springs Mayor Meg Kelly. "Some people call Marylou Whitney the savior of Saratoga Springs. Some consider her the Queen of Saratoga."
For seven decades, Mrs. Whitney was a successful thoroughbred racing owner. She discovered a passion for racing upon her marriage to Cornelius Vanderbilt "Sonny" Whitney in 1958. Their stable embarked on a winning tradition, with Tompion capturing the Travers in 1960 and Chompion winning the Mid-Summer Derby in 1968. Mrs. Whitney's contributions to Saratoga went beyond trips to the winner's circle. In the 1970s, when wagering and attendance sagged during the summer meet, she helped convince NYRA to keep Saratoga Race Course open as a viable part of its racing calendar.
Following Sonny's death in 1992, Mrs. Whitney opened her stable. When Bird Town, trained by Nick Zito, captured the Kentucky Oaks in 2003, Mrs. Whitney became the first woman in 80 years to own and breed a Kentucky Oaks winner. The following year, she and her husband John campaigned Birdstone to milestone and memorable wins in the Belmont Stakes and the Travers. In all, Marylou Whitney Stables earned nine graded stakes victories among more than 190 winners from 2000-2019.
As a founding member of the Saratoga Performing Arts Center and the National Museum of Dance, she helped lead the renaissance for Saratoga Springs and contributed to its emergence as one of the nation's leading summer tourism destinations: "the Summer Place to Be."
She continued her philanthropic efforts as a founding member of the Thoroughbred Retirement Foundation in 1983. Alongside her husband John, she later spearheaded the highly-regarded Saratoga Backstretch Appreciation program, which continues to serve as a vital resource for stable workers who are away from home during the Saratoga meet.
Mrs. Whitney was presented with an Eclipse Award of Merit in 2010 for her contributions to racing and was elected to the Jockey Club in 2011.