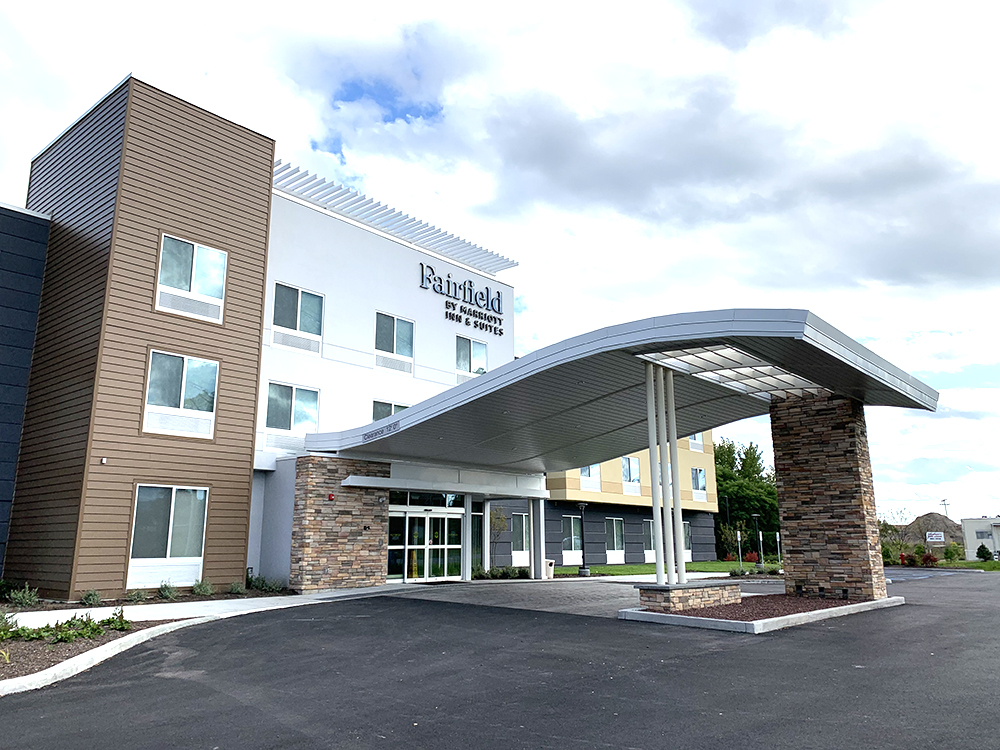 By Andrea Palmer
The new Fairfield by Marriott Inn & Suites Queensbury is open for business at 21 Big Boom Road in Glens Falls, just off Exit 18.
The 77-room hotel opened on Sept. 7.
It will operate as a Marriott franchise, owned by Adirondack Gateway Development LLC and managed by Spruce Hospitality Group of Glen Falls, the same group that owns and operates the Queensbury Hotel.
Tyler Herrick is the president of Spruce Hospitality Group, owned by Herrick and business partner Zachary Moore. The group also manages the hospitality entities owned by Ed Moore, creator of the French Mountain Commons outlets in Lake George and owner of the Queensbury Hotel among other properties.
As co-owner of Spruce Hospitality, Herrick acts as general manager for both the Queensbury Hotel and the Fairfield Inn & Suites.
"This is the most up-to-date design package offered by Marriott. It also goes back to the original founding of the Marriott brand, taking a page out of the design book of the Fairfield farm in Washington DC. This is where the Marriott family would often stay," said Herrick.
"With a lot of chains, you get a lot of teals, pastels and wacky colors. Our design is much more connected to nature, with blues, greens and natural wood tones," said Herrick.
The hotel offers a free hot breakfast, served daily.
"We have everything from healthy options to a waffle bar," said Herrick.
The hotel features an indoor swimming pool with handicap accessibility, an outdoor hot tub with handicap accessibility and a large fitness facility with state-of-the art equipment. Wifi and smart TVs are in every room.
"It's a sister hotel to the Queensbury [Hotel]," said Herrick. "The Queensbury is a full-service hotel with everything you need, with multiple restaurants, 12,000 square feet of meeting space, the ability to do weddings and other events, the whole nine yards. The Fairfield Inn & Suites is more for the business traveler or someone who wants to get in, get out. We're right off the highway and conveniently located to Lake George and Saratoga."
As Spruce Hospitality Group continues to expand, Herrick sees advancement opportunities for current employees.
"For the time being, I am managing both properties. As we continue to gain more properties and grow Spruce Hospitality, naturally I can't be everywhere at once. I have an amazing team and strong assistant managers at both locations. My hope is after we get moving and used to being open, we'll promote from within," said Herrick.
He said his company is looking to gain more properties. "We also do consulting work, for example with Elizabeth Miller on the Park Theater before it opened. We have a couple other projects that we've been consulting on up in the Southern Adirondacks with other hotel developers."
Spruce Hospitality Group started in 2016.
Fairfield Inn & Suites by Marriott is a franchise. Marriott has 30 brands.
"We're in the Classic Select level of their brands, similar to the Courtyard Marriott of Lake George. Marriott has more hotels than any other company in the world. With that, we get the support from Marriott, and the rewards point program. There's 130 million members across the world, and we're able to market to them. You get a lot of instant customers and relationships with people because of that," said Herrick.
The Fairfield by Marriott allows guests to log into the TV with their Netflix or other streaming account information. Upon checkout, the account is automatically logged off. Guests can also check out from their smart TV and bypass the front desk altogether upon departure.
The Fairfield Inn is hosting a ribbon cutting with the Adirondack Regional Chamber of Commerce on Sept. 19.