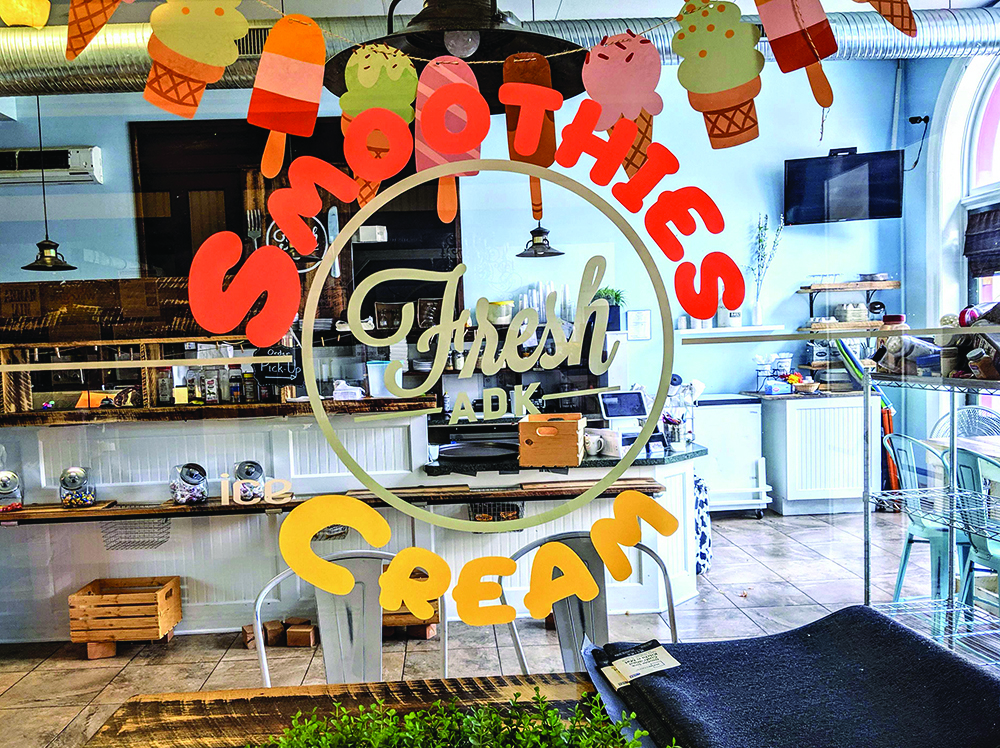 by Andrea Palmer
Prior to opening Fresh ADK, a restaurant at 11 South St. in Glens Falls, Melissa Brennan owned and operated daycare centers for 21 years. In 2015, she became sick and gained weight.
It led to starting a business that pays attention to healthy eating.
"My body started to shut down, and I didn't know why. So I left the daycare business. I literally thought I was dying," said Brennan.
"I found out it was all food-related. I took time to figure out myself what was wrong, because there wasn't a doctor who could tell me. I'd always wanted to try something new, and I knew there were other people like me who had food-related sickness. So I opened the restaurant," she said.
Brennan chose to operate the business almost entirely by herself.
"I didn't want things run like a big restaurant, pushing people through. I wanted to be able to talk to people. It's about finding out what people's ailments and food issues are, and cooking to make sure we're taking care of them the way they need," said Brennan.
Brennan credits a refusal to fail as the key to success in the restaurant business. The building next door to Fresh ADK was purchased and completely renovated by Chris Patten recently. Construction made access difficult for the restaurant. There was no sidewalk accessibility.
"There were mornings where I literally cried … But I kept saying it was going to be amazing when it was all done," she said.
After a brief hiatus, Fresh ADK is expanding its menu and services.
The restaurant started three years ago, initially utilizing one storefront on South Street. Eventually, Brennan expanded to include the adjacent space. Fresh ADK now occupies the ground level storefront of 11 South Street.
About a year ago, the restaurant expanded into the additional space, which Brennan described as a "blank square" with no kitchen.
"I didn't plan on expanding, but I knew it was something we needed to do. The opportunity came up. We went ahead and took that space, and it's beautiful," said Brennan.
The additional space serves as the dining room and bakery counter. It will grow into a market of specialty products such as produce and drinks. The original space continues to serve as the kitchen, a pickup space for take-out and a smoothie bar.
"It's a bonafide smoothie bar. It's all fresh, real food. Fresh veggies, fresh fruits. We have all kinds of things you can add, like protein powders, collagen, bone broth and crystallized CBDs," said Brennan.
Fresh ADK also sells CBD products, primarily from Holistic Health out of Colorado.
"Our CBD products were recommended to us by a chiropractor we know. He works with people who suffer from all kinds of ailments," said Brennan. "They're pure CBDs. It's not a crap shoot. We researched the product for a long time," said Brennan.
Fresh ADK has space available to rent for parties and events. Catering is offered both in-house and for delivery. Brennan personalizes dishes, creating a specialized menu for each event.
"Things are awesome now. The businesses on the corner, as well as Chris [Patten], we have a great relationship. Everybody is working together. Everybody supports each other's business. It's truly changed downtown," said Brennan.
"Even in the beginning, when nothing was happening on South Street, there was something inside of me that said that was where I was supposed to be. I knew it was going to be hard, and it was. But it's awesome," said Brennan.
Brennan has plans for expansion.
"We'll be expanding our educational classes. We started a health network from that. We're finishing up our website for that. People will be able to find local healthcare professionals that offer both modern western medicine and alternative medicine," said Brennan.
The health network website is www.freshdirection.org and should be up and running in November.
"We're going to extend our bakery menu and our coffee offerings. We'll be adding a market with specialty items like local produce," she said.
Brennan also has plans to start a new daycare center in Glens Falls next year.
"It will be a green daycare, with all the same food. All whole foods, clean eating. It will be the 11th daycare I've opened. I miss it tremendously. I really miss the kids. I loved my families," said Brennan.
"The reason I love daycare is the same reason I love the restaurant. It's a privilege to take care of people," said Brennan.