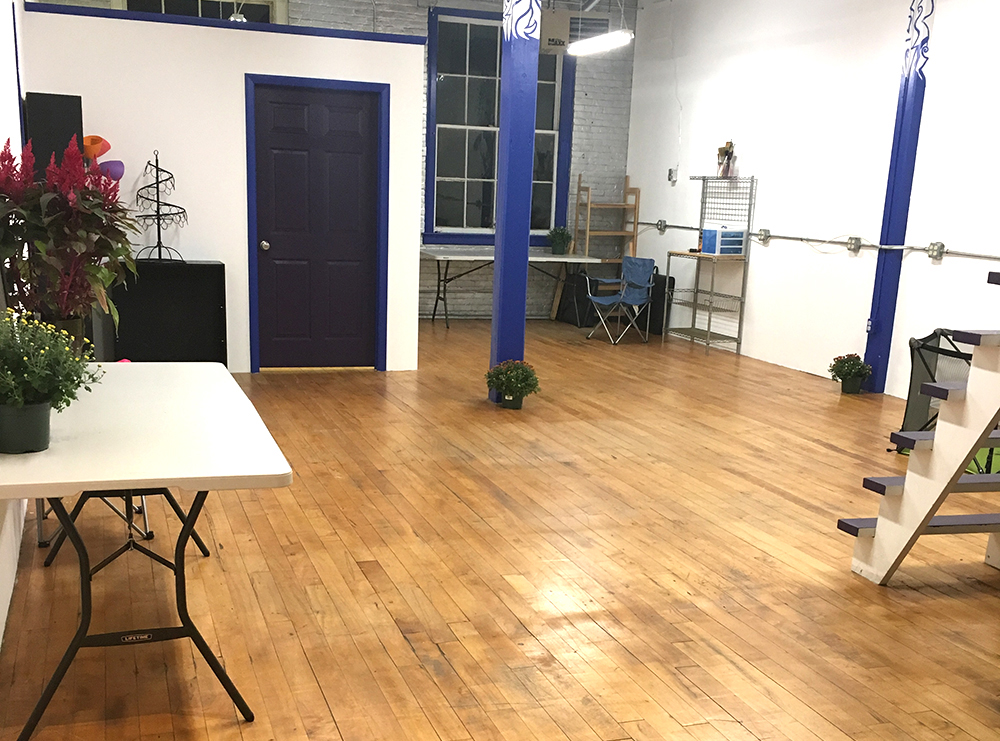 By Susan E. Campbell
A new business at The Shirt Factory in downtown Glens Falls gives people of all ages a place to "let their creativity run wild," said Rachael Rihanna, who opened Cre8ivology on Oct. 1.
Cre8ivology is a place to gather for a paint -and-sip party, take a basic art course and more. The studio is also the space where Rihanna creates and shows her own works of fine art.
An artist whose primary medium is watercolor, Rihanna has shown her work in galleries around Glens Falls for years. More recently she has turned to acrylics and mural projects for businesses and residents.
Getting started in her own business has been "a huge whirlwind," she said. "It was only two months from the time I had the idea for a retail business until the opening."
Her initial concept was for a storefront with enough space for events. She started looking and quickly found what she was envisioning at The Shirt Factory, she said.
"I loved the space and the atmosphere at Suite 307 on the third floor," she said. "It has an open main room for painting parties, an office space, storage area and loft."
Areas are also dedicated to her personal workspace, a retail section with hand-painted gifts, and a play area for toddlers.
"Everything in the studio has been child-proofed," Rihanna said. The mother of a 4-year-old and a 17-month-old, she wants to make sure mothers can feel comfortable and their little ones can be entertained if they are too young to take part in the painting activities.
Rhianna's dream and goal over the next year is to be able to support herself as an artist full time, rather than perform jobs that don't fulfill her, she said.
Her first event was small but successful, in that the guests were happy with their paintings, she said. One aspect of her class that differentiates it from others is that she encourages guests to pick out their own color palette.
"They all did the same painting with my guidance, but there was variety," she said. "Everyone can add their own flair."
Rihanna is working on some specialized courses, in addition to three-session courses to introduce new students to watercolors, acrylics, oils and other subjects.
"I want to do art therapy for veterans with PTSD and children with disabilities," she said.
She has spoken to a director at The Prospect School, as well as a woman who runs programs for veterans who are struggling and may not be able to afford the art therapy on their own. The latter's organization would help with funding.
Another idea in formation is an after-school art program for "kids who aren't sportsy, but are artsy," she said. "Moms love the idea of not having to leave work at 2 p.m. and have their kids occupied with something creative until 5 p.m.," she said.
Rihanna said her biggest challenge starting a company is time.
"I work full-time and have two little kids," she said. "The whole studio is one big art project."
The second challenge is money, but she maintains a positive attitude. "But I believe people will come if I keep at it," she said. "This is a business with potential for growth in every aspect where I could create growth."
Visit www.cre8ivology.com for more information.