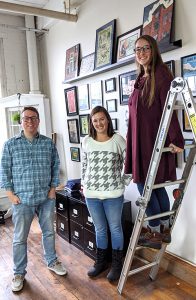 By Jennifer Farnsworth
With a growing business, the addition of an employee and overall need to increase the space in which their creativity can flourish, the Glens Falls business Sidekick Creative decided it was time to leave its Main Street location. The business has new quarters on the second floor of the Shirt Factory, at 21 Cooper Street, Suite 22, in Glens Falls. The refurbished commercial building is a few blocks from downtown.
Sidekick Creative partner and business director Cara Greenslade said the new space fits their needs better. They have been able to easily settle into their new home. She said the overall vibe of the location inspires creativity.
"We had been subletting a small space in downtown Glens Falls for our first couple of years from Behan Communications. While their offices are beautiful and we loved being downtown, we outgrew the space when we hired our first employee this past April," said Greenslade. "We've always talked about having a large open space that we could make our own and moving to The Shirt Factory offered us just that and more."
"We have a big open studio with original hardwood floors, high ceilings and huge windows that let in a ton of natural light. While we're not right downtown anymore. It's just a short walk away and the building has a community of creativity all its own," she said.
Greenslade is business partners with Kelli Germain and Will Fowler, who together started Sidekick in April 2017 after working for a few years at a local ad agency. They all share a passion for design and decided to open the business after taking a course together. Their design studio focuses on branding, illustration, and photography.
"Our team's skill sets and strengths are different, yet dovetailed. Our varied backgrounds and disciplines allow us to think big picture while focusing on the smallest of details; to foster out-there ideas and straightforward business decisions. We strive to work to our strong suits, which makes us efficient and keeps us passionate. We are small, but mighty and we're stronger when we work together," said Greenslade.
The studio has a solid base of clients who they work with on both long- and short-term projects. Greenslade said they have clients all across the country and are looking into opening a Saratoga office.
"We do a lot of work in the horse racing industry but most of those clients are out-of-state, so we really want to dive into Saratoga horse racing scene. Also, we just got word today that we are officially certified as a Women Business Enterprise in New York state, so we're really excited at the opportunity to work with more state agencies and state-funded organizations," she said.
Greenslade said Sidekick is not only looking to build on their own success, but they want to see the communities they serve prosper as well.
"Our continually growing team began when three multitalented friends had big dreams to create designs with impact. As a small business of our own, we're passionate about seeing other businesses thrive," said Greenslade.
To learn more about Sidekick Creative visit www.sidekickcreative.us.