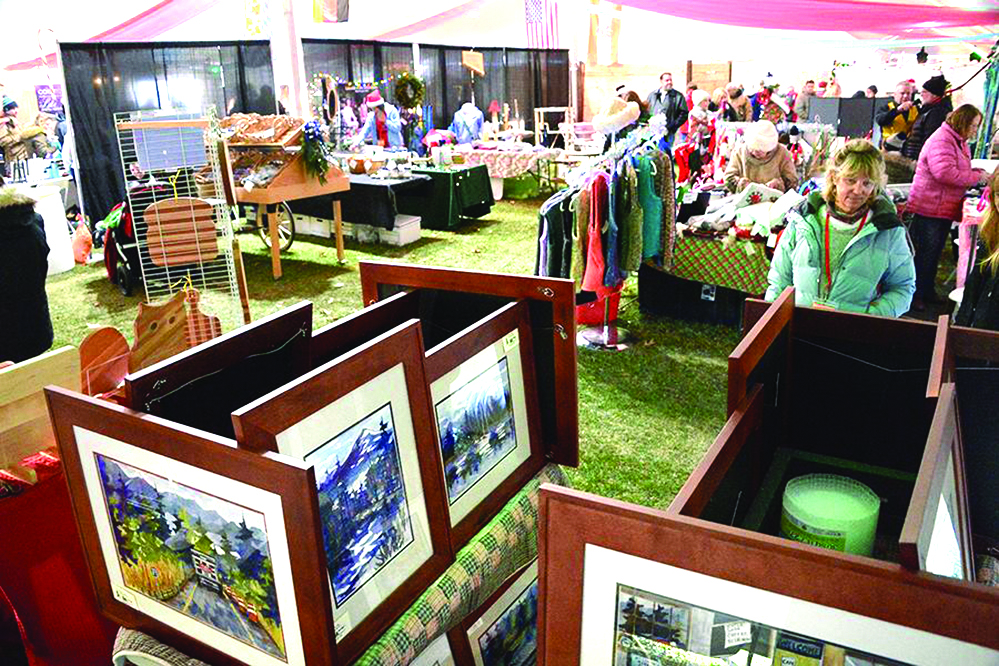 Charles R. Wood Park on West Brook Road in Lake George will be the site of the second annual Adirondack Christkindlmarkt event Dec. 6-8.
Last year, the inaugural event welcomed more than 5,000 people from as far away as New Jersey, Pennsylvania and Montreal, included 30 artisans and vendors and horse-drawn carriage rides, according to organizers.
The name translates to Christmas Market in English. These markets originated in Germany centuries ago. Other countries and cities have adopted the tradition throughout the years, organizers said.
The Adirondack Christkindlmarkt will feature over 40 vendors, including food vendors and local artisans, horse-drawn carriage rides, live entertainment and children's activities such as card making with the World Children's Museum, ornament-making with the Grassland Bird Trust, face painting and special appearances by Snoopy, Charlie Brown and Spruce the Moose, from the Six Flags Great Escape Lodge.
There will be holiday light displays, fire pits, children's activities, live music and entertainment.
This year, the organizing committee, comprised of event founder Kristen Hanifin (Lake George Regional Convention & Visitors Bureau), co-chairs Scott Hayden (Adirondack Folk School) and Amanda Copeland (Grassland Bird Trust) and Toni Huntington (Lake George Steamboat Company), said the number of vendors increased. The have launched a new partnership with the Lake George Steamboat Company to be able to feature "Boat Rides with Santa," throughout the weekend.
The boats will depart Saturday, Dec. 7 at 11 a.m., 1 p.m. and 3 p.m., and Sunday, Dec. 8, at 11 a.m. and 1 p.m. Adult tickets are $20, children 4-11 are $10 and children 3 and under are free.
"We have an incredible line-up of live entertainment again this year," said Copeland. "We are happy to welcome back the Enzien Bavarian Dance Troupe, Tim Ortiz, Frank Palangi and PJ Duo, as well as new acts such as Hot Club of Saratoga, LeBet, Golfstrom and the Edelweiss Schuhplattler dance troupe of Utica.
"Our larger food/entertainment tent will be able to accommodate many more people and allow them to enjoy the music and dancing."
The committee is grateful for the community support and sponsorship from the town and village of Lake George, BOVE Heating, CDPHP, the town of Lake Luzerne, the Lake George Regional Chamber of Commerce, Warren County Tourism, Glens Falls National Bank, the Surfside Resort, the Lake George Outlets, Dunham's Bay Resort, Pioneer Bank, Leaf Filter, Events in A Tent, Kingsbury Printing, and Berkshire Hathaway.
"Our goal is to continue to partner with local community businesses to foster and encourage year-round tourism growth in the Lake George area. By creating signature events such as the Adirondack Christkindlmarkt, we hope to increase visitations, tourism and local economic prosperity," said Hanifin and Hayden.
In addition to the full line up of activities, the Lake George Regional Convention & Visitors Bureau has partnered with local hotels to provide discounted vendor and group rates, and holiday weekend getaway packages.
The Adirondack Christkindlmarkt committee also hopes to cross-promote with other local holiday events in the region such as Hometown Holidays in Glens Falls, Dec. 5-6, the Warrensburg Holiday Parade and Candy Cane Flashlight Hunt, Dec. 6, the North Country Holiday Singers Celebration at Tannery Pond in North Creek, Dec. 7-8, and Holidays in the Lodge at Six Flags Great Escape Lodge (weekends throughout December) to encourage visitations across the region and increase winter tourism in the Lake George area.