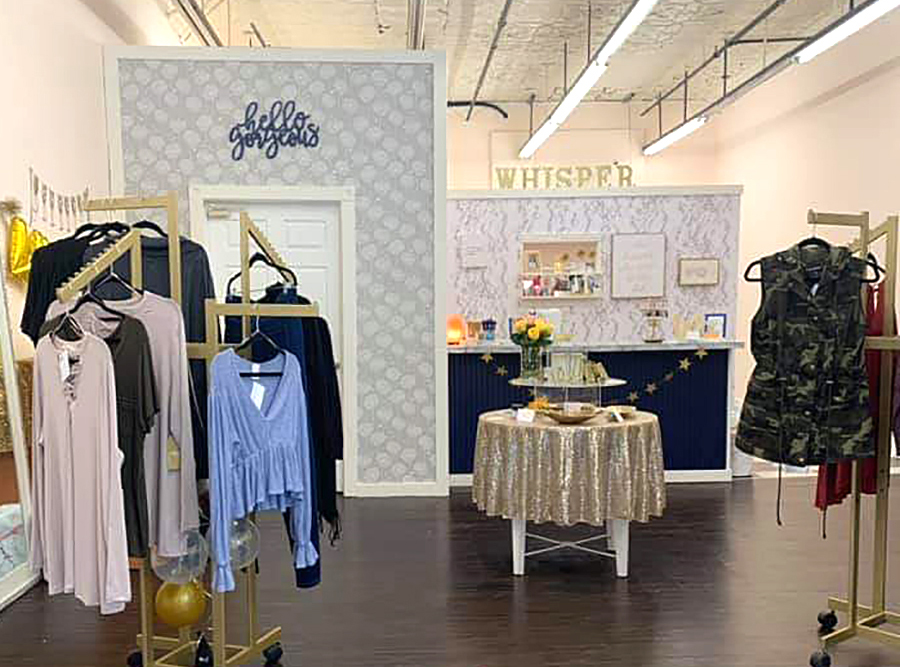 By Andrea Palmer
Whisper Boutique has relocated to 14 Ridge Street. It was at 28 Ridge St. for the last three years.
At the former site "we had a major flood when a hot water heater exploded in one of the apartments upstairs," said Nathalie Leland, owner-operator of the downtown clothing boutique. "It ended up being perfect timing. Someone had reached out to me about the space at 14 Ridge St. opening up."
Leland worked for Leland Paper briefly before deciding to open her own store.
"When I was in college, I purchased a vinyl cutting machine. I bought it to make things for myself, but then my friends wanted me to make things for them too. I ended up creating a business out of it," said Leland.
The materials and vinyl cutting process for the small business soon took over the dining room area in which Leland operated her home-based manufacturing setup.
"By then, I'd started to dabble into more clothing items as well. It got to be where I was taking up so much space in the dining room that it was time to go somewhere else with more space," she said. "Once I moved to a storefront location, I decided to change directions. Instead of focusing on the vinyl aspect, I decided to move in the direction of a boutique clothing store."
"I love having a business downtown. I love the people, the hustle and bustle of it. I couldn't imagine having Whisper anywhere else other than where I'm from," said Leland.
Whisper Boutique had a grand re-opening at the new location in late October.
"Now that I'm a few years into it, I have a better understanding of what people are looking for. What works and doesn't work in Glens Falls. What might work in a store in another state might not work up here," said Leland.
"I'm also hoping to bring in a wider selection of sizes. I want everyone who walks in here to feel comfortable and find something they love," said Leland.
Leland recently secured a partnership with a jeweler in Florida. The jewelry line is handmade. Leland is also working to bring in local items to the store.
"Whenever I send a gift to someone who doesn't live here, I always want to send something that's special to this area. So I'm hoping to bring in some of those things to the store as well," she said.
"We try to keep all our prices under $45. As we expand and bring in more items, like jackets and shoes, some items may be a little bit higher. But I try to keep pricing so anyone can come in and get an entire outfit, and it be affordable. I want them to feel good about treating themselves," said Leland.
Leland runs a VIP Facebook group for the store. Anyone is able to join the group.
"I love working for myself and being able to work the ideas I have without having to confirm them with someone. It's awesome. It's definitely stressful at times and it's aged me by a lot of years, but it's worth it," said Leland.
The store will host a sip-and-shop in late November or early December, and will participate in the Downtown Glens Falls Ladies Night Out in mid-December. The shop's Facebook page is regularly updated with upcoming events.