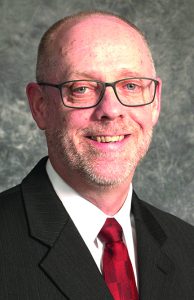 The Adirondack Regional Chamber of Commerce (ARCC) announced that the 31st annual J. Walter Juckett Community Service Award will be presented to Paul L. Dowen, CPA and managing partner of Whittemore, Dowen and Ricciardelli LLP in Queensbury.
The award will be presented at the ARCC annual dinner on Friday, March 6, at the Sagamore Resort, 110 Sagamore Road, Bolton Landing.
A cocktail hour runs 6-7 p.m., followed by dinner and a program 7-11 p.m.
Dowen grew up in Saratoga Springs and made his way up to the Glens Falls region in 1976, attending Adirondack Community College (now SUNY Adirondack). Upon his graduation from Castleton State College (now Castleton University) in 1980, he returned to Glens Falls and started his accounting career with the CPA firm of Silverstein and Loftus.
Dowen started his own firm in 1987 and has been in partnership with Phillip Whittemore, as well as other partners, since 1994. His long-standing partnership with Phillip Whittemore merged with Edwards, Williams, McManus & Ricciardelli to form Whittemore, Dowen & Ricciardelli in April of 2006.
He joined the Glens Falls Rotary Club in 1982 has continued his membership and commitment to the organization for almost 40 years. He has been involved with numerous other community and charitable groups serving in various roles including board seats, committees and just volunteering his time.
Dowen currently serves on the boards of SUNY Adirondack Foundation, the House of Grace of the Adirondacks, the Adirondack Hockey Coalition and Christ Church United Methodist.
The ARCC noted that J. Walter Juckett had a remarkable business career and was recognized as a major community leader in his adopted home, the village of Hudson Falls, and the entire region. His leadership and commitment traversed a wide range of civic, charitable, religious, political, business and educational activities.
He was recognized with honors for his work and contributions to the Boy Scouts of America, New York Business Development Corp., Salvation Army, Norwich University, Presbyterian Church, Hudson Falls Central School and many other organizations. He served as a director of the Lake George Opera, and a major force in The Hyde Collection Capital Campaign.
Founded in 1914, the ARCC is a membership organization representing in excess of 23,000 people predominantly in Washington, Warren and northern Saratoga counties.