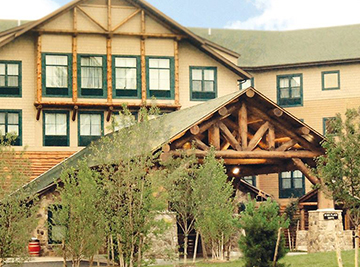 People planning to go to the Great Escape this summer will have to make reservations. But the Six Flags Great Escape Lodge will re-open with new guidelines on Friday, June 26, and the Johnny Rockets restaurant will also re-open, Six Flags said in a June 4 news release.
The 200-suite lodge, located across Route 9 from the Great Escape theme park, is now taking reservations.
The lodge will initially open with limited capacity. The theme park and indoor water park will remain closed until allowed to re-open by state and regional officials.
"The hotel will offer a clean and safe getaway for families coming to the beautiful Lake George area to enjoy hiking routes in the Adirondacks, exciting bike trails and stunning mountain summit reviews with outdoor adventures," Six Flags said in new release.
High-touch items like coffee makers, pens and paper and in-house guides have been removed. Cleaning protocols have been elevated and room rentals are rotated so rooms can be thoroughly cleaned after guests have departed.
Meanwhile, the Johnny Rockets restaurant re-opened its outdoor deck days after Gov. Andrew M. Cuomo announced that outdoor restaurant dining would be allowed. Occupancy has been reduced and tables spaced out to meet distancing guidelines. Single-use menus are used, as are single-use knives and forks, napkins and condiments.
Call-ahead ordering is preferred. All staff wears protective masks and gloves.
"The Six Flags Great Escape Lodge is fully prepared to welcome our guests back as we introduce new hygiene and sanitization procedures to make a safer experience for everyone. The health and safety if our guests, team members and community remains our top priority," said Six Flags Great Escape Lodge General Manager Jeff Bartone.
The hotel will have extensive new social distancing and cleaning measures in place, and all staff and guests will be expected to wear masks.
Great Escape in Lake George has been closed so far this year. Entertainment venues are part of phase IV or New York state's plans to re-open businesses. Arts and entertainment are the last on its phasing schedule.
Six Flags announced the details about its new reservations system in May. This summer, no guests will be allowed into any Six Flags park without reserving their trip in advance.
Those who do not show up get penalized with "reduced priority" choices for their next visit and blackout periods, officials said. People can cancel without penalty until 8 a.m. on the day they had reserved.
"We are excited about reopening our parks and getting back to the business of fun; however, we want to do so in the safest possible manner. By having guests pre-register before they visit, we can plan ahead with proper staffing and sanitization measures, including ensuring that guests and team members maintain safe social distancing throughout the day," Six Flags President and CEO Mike Spanos said in a statement.
According to the company, choosing the time to enter is the key part of the plan. Great Escape is staggering entrance times to reduce crowding at the front. Guests will only be allowed to enter at the time they chose. They will be asked to wait in their car until their entrance time. If they arrive late, they will get in, but there may be a delay.
The reservations system offers benefits for members and season pass holders. They will be given "booking priority" over those who buy one-day tickets. Although dates for the entire 2020 season will be available to book, Six Flags will release additional blocks of capacity weekly, and members and pass holders have priority for those, officials said.
Meanwhile, the area's Six Flags Great Escape Resort has made strides to give back to the community and has supported local organizations in the following ways:
• Approximately 900 surgical masks were donated to Glens Falls Hospital;
• Free Wi-Fi from the Johnny Rockets Sports Lounge is available to local SUNY Adirondack students who often use the restaurant's parking lot to access online classes and virtual education from the convenience of their cars.
• The Six Flags Great Escape Lodge & Indoor Waterpark offered the use of refrigerators and freezers to keep additional food fresh for the local Washington County Office for the Aging.
The reservation process is described as taking five to seven minutes at www.sixflags.com/reserve. First, guests must type in the online order number, ticket number, membership or season pass number for every visitor in their group, select their date and pick the approximate time they plan to enter the park.
Then they must watch a video that describes the park's social distancing and sanitation procedures and acknowledge that they understand the health policy.
Officials said people can check periodically for updates at www.sixflags.com/greatescape/plan-your-visit/coronavirus-update.