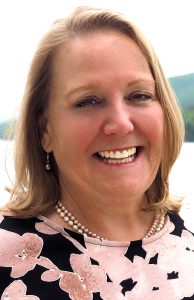 By Gina Mintzer
The Lake George area's tourism industry is responsible for an estimated 9,100 jobs and an annual economic impact of $629 million. Visitor spending in the region produces millions of dollars in sales tax revenue that offsets local property taxes and supports essential public services.
When the COVID-19 lockdown began, the Lake George Regional Chamber of Commerce continued to operate remotely, recognizing the need for strong communication between staff, board of directors, members, partners, and clients.
We quickly reacted, doing our best to monitor rapidly changing information and share that with our community to help them navigate this unprecedented time. During the lockdown we surveyed the business community in an effort to get information on their needs and then advocate on their behalf.
Realizing the potentially devastating effect of COVID-19 to our tourism economy, businesses and government embraced a collaborative spirit.
The Warren County Economic Recovery Task Force was formed—a partnership between the Warren County Lodging Association, Adirondack Regional Chamber of Commerce, Lake George Regional Chamber of Commerce, Warren County Tourism Department, government officials and others. The partnership was established to proactively work toward recovery after the economic disruption.
The goal of the task force was to ensure the opening of businesses in the Lake George area safely, responsibly and with the health and well-being of the entire community, team members and visitors at the forefront. Through this careful planning and increased communication among businesses, the area prepared to reopen responsibly as each phase allowed.
To ensure safe practices for each phase, the group collected information from a variety of sources including government, industry organizations and various hospitality corporation's best practices, and distilled that information for the local business community to implement at their individual properties.
Our recovery plan has included specific marketing of the destination in collaboration with all county partners, with the continuing message that we are in this together. These efforts allowed us to advocate for businesses to reopen at the "regional control room" level with great confidence for the area.
We believe our Warren County collaborative effort assisted the entire Capital Region as well as other statewide regions.
As the phased reopening progressed safely, the task force spun off a hospitality communications work group focused on an proactive public relations and advertising campaign to keep the Lake George area top of mind for staycation visitors both within the region and the 70 mile radius around New York City, with our messaging of what is available for the potential visitor to enjoy safely in the region.
Sidekick Creative of Glens Falls had designed an Adirondacks-themed kiosk for the Lake George Village Visitor Center, featuring all Warren County municipalities. They played off those designs and created the current posters, flyers, and lawn signs of the ongoing messaging: social distancing, wash your hands and wear a mask.
Businesses can print these signs as well to encourage people to maintain social distance, wash their hands and wear a mask.
The hospitality communications work group launched the Lake George Region and Southern Adirondacks Health and Safety Pledge program. To date, nearly 150 businesses have signed the voluntary Health and Safety Pledge program, which goes beyond the CDC and state guidelines to confirm a safe work environment.
The Health and Safety Pledge badge allows businesses to showcase their dedication to rigorous cleanliness and sanitation standards they've adopted. It can be displayed as a window cling at their business or digitally on their website, social media and more. More information and a list of businesses that have pledged is available at lakegeorgechamber.com/COVID/pledge.
As we entered Phase Four of the NY Forward reopening plan, 500-plus job opportunities in the region became available. To help showcase these jobs, LakeGeorgeisHiring.com was developed by Mannix Marketing, in conjunction with the hospitality communications work group participants: Behan Communications, Warren County Employment & Training, Warren County Tourism Department, the Adirondack Regional Chamber of Commerce and the Lake George Regional Chamber of Commerce. The site features open positions for all levels of experience.