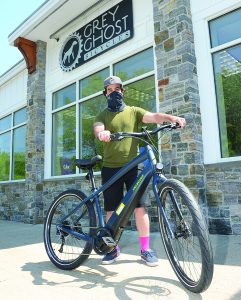 By Jennifer Farnsworth
Interest in bicycling has grown as a safe alternative for transportation, combating boredom and staying in shape during the COVID-19 pandemic.
Local bike shops, like Grey Ghost Bicycles in Glens Falls and Saratoga Springs, didn't anticipate what that would mean for them. They have worked tirelessly to keep us with customer demand.
"I never in my wildest dreams could have imagined the spring we had," said Grey Ghost manager Steve Fairchild.
With an established business in Glens Falls, Grey Ghost opened its second location in the plaza at 60 West Ave. in Saratoga Springs just before the pandemic hit. They were deemed by the state as an essential business, a determination that Fairchild said he thought may bring some challenges.
But he never expected to experience the demand that he saw almost immediately.
"As soon as the weather started to warm up in late March, early April, the demand just skyrocketed. Our inventory was almost immediately cleared out. Many of the bikes we sell are made in China and since most of the manufacturers closed, we couldn't even order bikes. They just were not being made," said Fairchild.
The second part of the demand on the business was repairs. That is the primarily focus now at both locations, since the availability of new bikes is scarce. Fairchild said people are digging bikes out of basements and garages, many of which haven't been used in years.
"We have bikes coming in that need repairs of parts that are no longer being made. Some of these bikes are up to 30 years old. We do our best to get them operating with parts we have in stock," he said. "We can't even order some parts because either they are no longer available, or the supply can't keep up with the demand. It has been a challenge to say the least."
Fairchild said bicycle mechanics can be hard to find and they have had to ensure they are meeting all current safety regulations, including having only so many people at a location at a time, for safety distancing reasons.
He said they are used to circumstances not being ideal. When they opened their Glens Falls location, they were in a construction zone for a year due to a devastating fire at a neighboring building.
"I guess you could say we know how to work through unexpected situations," said Fairchild.
The shop has a waiting period for repairs. Fairchild said they are being inundated with repair orders but says most customers have been understanding given the current state.
"It has been overwhelming for us, and most people get that. We appreciate their patience," said Fairchild.
Both locations are operating on a limited basis with limited stock. Grey Ghost Bicycles is available online at greyghostbicycles.com. The locations are open from 11 a.m. to 6 p.m. Tuesday through Friday and 10 a.m. to 5 p.m. on Saturdays.