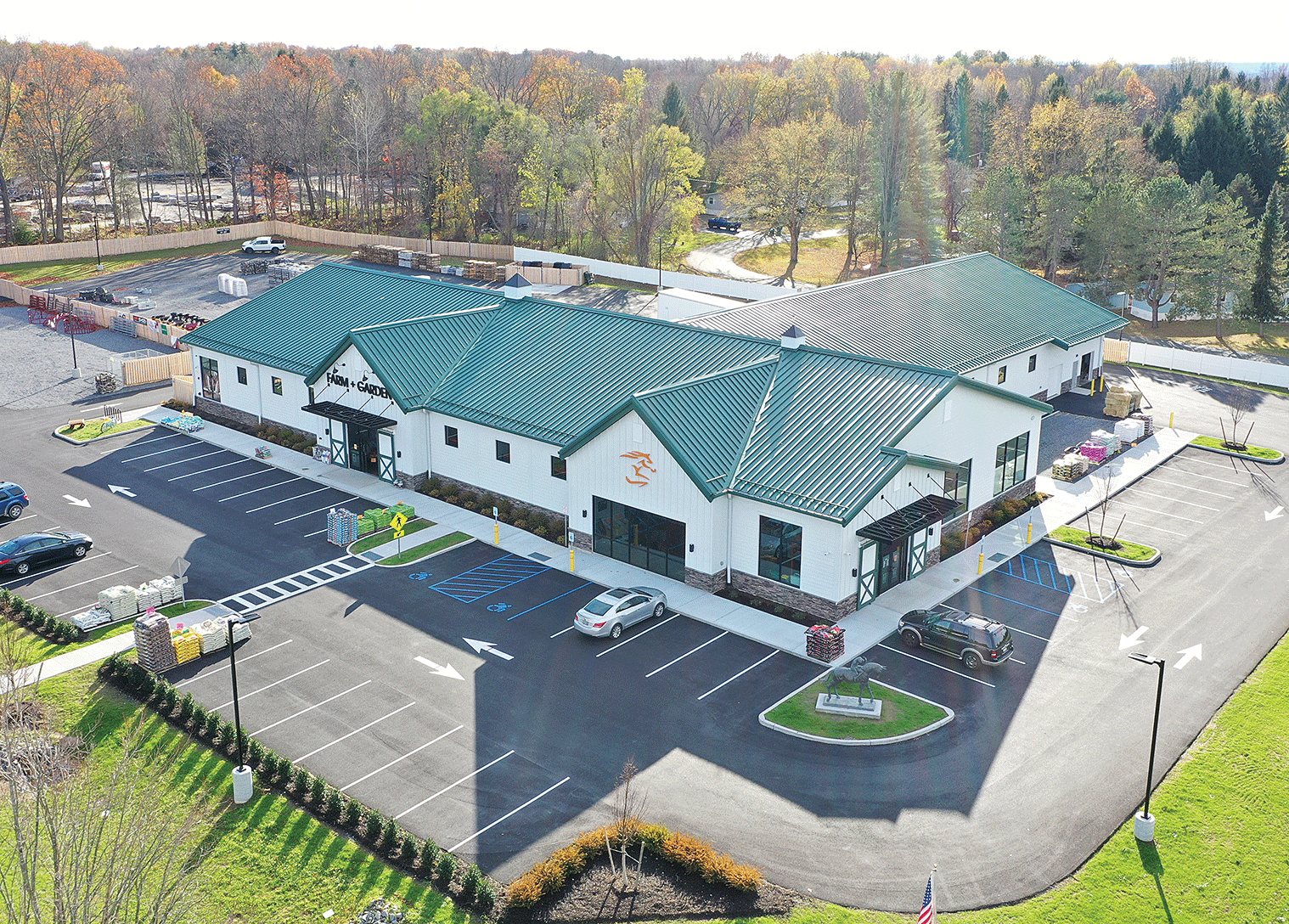 By Susan Elise Campbell
Malta Farm and Garden, at 2712 Route 9, is now open to shop for farm, garden and pet supplies.
It is the latest of five stores owned by the Millerton Co-op, a group of farmers who have been supporting each other as an enterprise since the 1940s, according to the store's general manager Paul O'Neil.
The Malta store is the co-op's northernmost location, O'Neil said. It opened in early October.
"We were bringing four boxloads a week up from the Chatham store an hour away and getting many referrals," he said. "So we wanted to plant our flag up here and build a retail store to better serve our customers."
There are five full-time staff working in the warehouse and showroom, plus four part-timers.
O'Neil said Malta "is a great growing town with plenty of room" and the intersection at Route 9 and East High Street was just right for 20,000 square feet of new construction.
O'Neil and his wife Patti live in Saratoga Springs and their son Christopher lives in Luther Forest. All three work at the Malta location, while Paul has oversight for all five stores. He has been in the animal feed and supply business since the 1980s.
"I was working in the Agway store in Kinderhook part-time while in college and caught someone's eye in management," said O'Neil. "They liked the way I worked and offered me a position."
In 1984, the Agway Corporation went bankrupt and the farmers co-op that had been grinding, mixing and selling grain for 40 years separated from Agway. They set up their first store in Millerton, N.Y. O'Neil became general manager.
By 1996, the Chatham store had been established. Over the decades the co-op evolved their farm supplies and feed store into a retailer of diverse lawn and garden supplies, pool chemicals, wild bird seed and pet food. Ownership does not include as many dairy farms as it once did, but members who participate join for free and receive an annual patronage refund, according to O'Neil.
"A member needs to have either a horse farm or a dairy or cattle, not just six chickens in the back yard," he said. "The co-op was designed for those making a living off their land or their livestock, and that includes horse rescues."
When the pandemic hit, he worked with a feed company to provide food for the standardbreds at Saratoga harness track.
"They weren't racing and there was no income coming in," he said. "We fed more than 600 horses stabled at the track and three training facilities off-site for a week in mid-April. We did it again in June working along with the Horseman's Association."
At Malta Farm and Garden, visitors are viewed "not as customers but as partners" and O'Neil wants "all local businesses to do well," he said.
"The smaller family-owned stores are always in competition, but if we don't carry an item we will always send a customer to a local shop before we send them to a big box store," he said. "I believe we can all work together to compete with the big guys."
"If someone is looking for a specific item or brand, we won't say nope, we don't have it," said O'Neil. "We'll try to find or recommend an alternative, something comparable to resolve their issue."
Bishop Beaudry Construction LLC of Colonie was general contractor and Syversten Riguso Architects, PLLC out of Clifton Park was the design firm. Ballston Spa-based Bohler Engineering was responsible for land development and Sienna Fence Company of Clifton Park and AJ Sign Company of Burnt Hills were also sub-contracted
Visit www.maltafarmandgarden.com for more information.