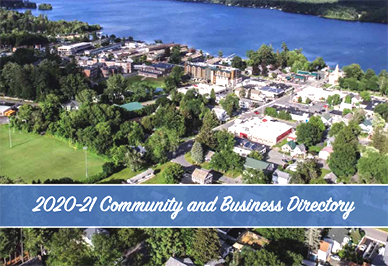 The Lake George Regional Chamber of Commerce has produced a new publication, available in print and digital form, to assist people looking to move to or open a business in the region.
The 2020-21 Community and Business Directory, is available in print by request and digitally on lakegeorgechamber.com.
It includes information about key industries, business resources, county facts, towns and villages, the Adirondacks Welcome Center, education, services and utilities, hiking, biking, public parks and environmental organizations, agriculture. It also includes a Chamber membership directory.
This marks the first year the Chamber has produced this type of guide. It has been producing a Four-Seasons Travel Guide aimed at tourists for decades. That guide is printed annually in January and has a 70,000 print circulation plus thousands of digital views. It is distributed strategically at key points to help reach the traveling public throughout the Northeast.
Though the COVID-19 pandemic delayed printing of the 2020-21 Community and Business Directory, the Chamber found it was more important than ever to have this resource to provide as an influx of people continue to move to the area.
"We decided to create this publication because we recognized the Travel Guide was a helpful resource for people looking to visit the region, but many of those visitors were then looking to become residents and had many questions that are now answered in this new guide," said Executive Director Gina Mintzer. "We also wanted to provide this as an added member benefit to our Chamber members to help them reach additional people moving to the area or opening a business here."
To help people access the guide, the Chamber provided a digital version on www.lakegeoregchamber.com and provided advertisers with a HTML code to display on their websites as well as posters with QR codes that provide access to the digital guide.
Printed copies are available upon request. People may fill out the form on lakegeorgechamber.com or call (518) 668-5755.