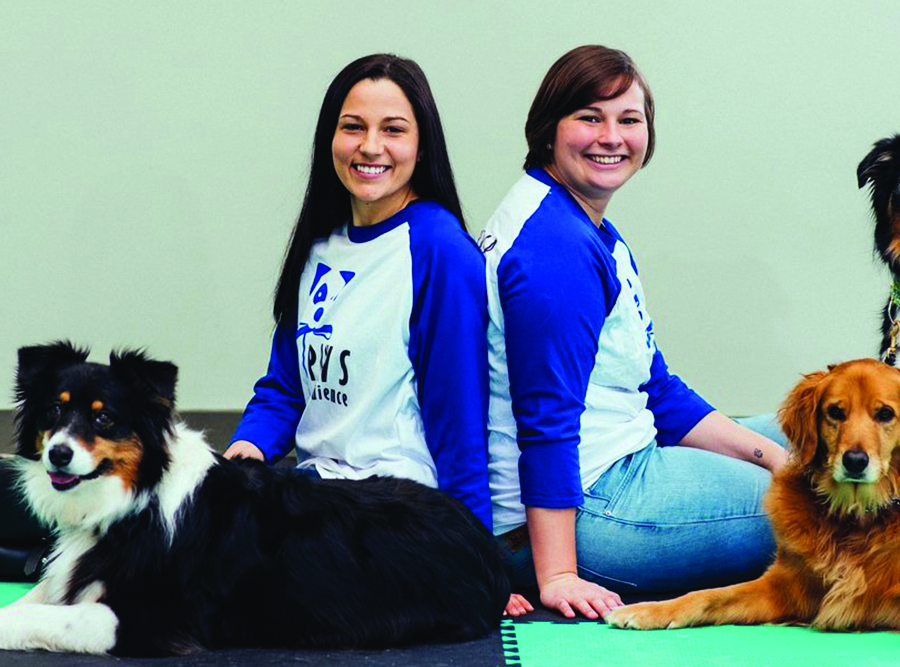 By Susan Elise Campbell
Lora Bacharach and Brianna Rabine started North Country Paws for Obedience only three years ago and are already expanding into a second location.
The partners purchased a 31.8-acre parcel on Route 4 in Hudson Falls. At the new site, they will be able to train more pets in a wider variety of skills while giving them better opportunities for socialization and healthy play, Bacharach said.
What started as a small obedience school moved seven months later across the street to a space four times larger at 1638 Route 9 in South Glens Falls.
Since then, "we were looking for a space to buy before the pandemic hit because we wanted to get farther away from the road," Bacharach said. "The current location limits the size of our classes as well as the services we can offer, such as off-leash training. Our long-term goal is always to accommodate our clients and the needs of the dogs."
Bacharach said puppy preschool and training will continue at the Route 9 location for the foreseeable future. But the new space will be a "K-9 enrichment center promoting healthy adventures and relationships" between people and their pets, she said.
There will be more room for boarding, training and rehabilitation. There is a pond nearby for introducing dogs to the water and plenty of space for agility training. There are also miles of hiking trails.
The COVID-19 pandemic that forced people indoors turned out to be an unexpected "blessing in disguise," Bacharach said. "It helped us re-evaluate the business and how to use our staff and time to be more efficient."
When it first hit and their doors were closed, Bacharach and Rabine got creative and started doing video training sessions.
"They were a big hit," said Bacharach. "People signed up from all over the country."
Bacharach said they will continue to offer virtual events and classes and may be hiring an events manager. The team is also planning to add more instructors, handlers and a groomer.
When New York went on PAUSE, many families decided to adopt pets. But as parents went back to work and kids back to school, some suffered from separation anxiety and other behavioral problems, she said.
For that, Rabine "has taken on more behavior cases perhaps due to the shut down," Bacharach said. "Some people got dogs and puppies during isolation without really knowing what they were in for."
Some problems include hypersensitivity and aggression, which Rabine helps solve with consultations and private lessons.
A day program is available five days a week for dogs and puppies who have already gone through the private training or pre-school programs run by Paws for Obedience and who are now in need of management or maintenance, Bacharach said.
Bacharach said she and Rabine "have a great business partnership and complement each other with the same methods, but their own style."
They both have certifications with American Kennel Club and the International Association of Canine Professionals. Visit paws4obedience.com for more information.