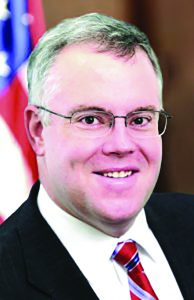 By State Sen. Dan Stec
As the 2021 State Legislative session gets underway in Albany this month, the first order of business must be reestablishing its role as a co-equal branch of government.
Since March, Gov. Andrew Cuomo has exercised unprecedented authority to deal with the myriad challenges created by COVID-19. He was granted this authority by the Legislature at a time of great uncertainty and when there was a need to quickly respond to mitigate the spread of the illness and avoid our health care system becoming totally overwhelmed.
Fortunately, we have moved beyond that critical time. Remaining vigilant to prevent the virus from spreading is certainly still very important. But the coronavirus vaccine now offers great hope that we will be able to get back to 'normal' in the near future. As we begin a new session of a newly elected Legislature, it seems to me the time is right for lawmakers representing all regions of our state to discontinue the governor's emergency power and fulfill their critical constitutional role.
We are all well aware of the financial challenges that lie ahead. While revenues for all levels of government are down, the real story is what our businesses, especially small employers and lower-wage workers, have been enduring. Small businesses drive our economy and their recovery must now be our priority.
In trying to address its own fiscal problems, state government must resist the temptation to raise taxes. New York leads the nation in total tax burden. We know that prior to COVID, too many families and businesses were choosing lower-tax states to invest in and build their futures. The pace of this exodus appears to have hastened the past six months, especially downstate.
The governor has said that New York state has paid $116 billion more than it received in federal spending since 2015, a trend which has apparently persisted for decades. Rather than taxing our own more, the governor and legislative leaders must exhaust every opportunity to get more help from Washington, D.C.
Infrastructure investment is very much needed. We see throughout our region antiquated water and sewer systems that are very expensive to upgrade, as well as road and especially bridge repairs long overdue. Because of their cost, these projects are put on hold year after year with the eventual fix only growing more expensive. Federal aid for infrastructure would be money well-spent because it would not only get people working quickly, it would have a long-term beneficial impact.
The sudden shift to "remote" work and learning also spotlighted the severe disadvantage for families and businesses in communities lacking cellular and high-speed broadband.
A couple years ago, a tax was included in the state budget to tax the construction of fiber in state right-of-ways. This has been very counterproductive to the state's effort to encourage providers to build new networks in unserved areas.
I opposed this tax and am now calling for its repeal. Additionally, though hundreds of millions of dollars have been awarded for broadband projects, it is very challenging to know exactly who has access to high-speed connectivity or when a planned expansion will make service available.
I have voted, and will continue to push, for a Public Service Commission led effort to gather this data on a granular level so we have a clear picture in every community of who has access to what, and can then target funds for broadband appropriately.
After serving eight years in the Assembly, I am very grateful for the opportunity to continue representing Glens Falls and this region as state senator. I have had a very good friend and mentor in state Sen. Betty Little, and wish her well in retirement.
We are fortunate to live in area that has had a strong economy, with a healthy balance of industries, hospitality, tourism, agriculture, construction, health care and the public-sector. Though the challenges of recovering from COVID will be daunting, I am optimistic and look forward to doing all I can to help.