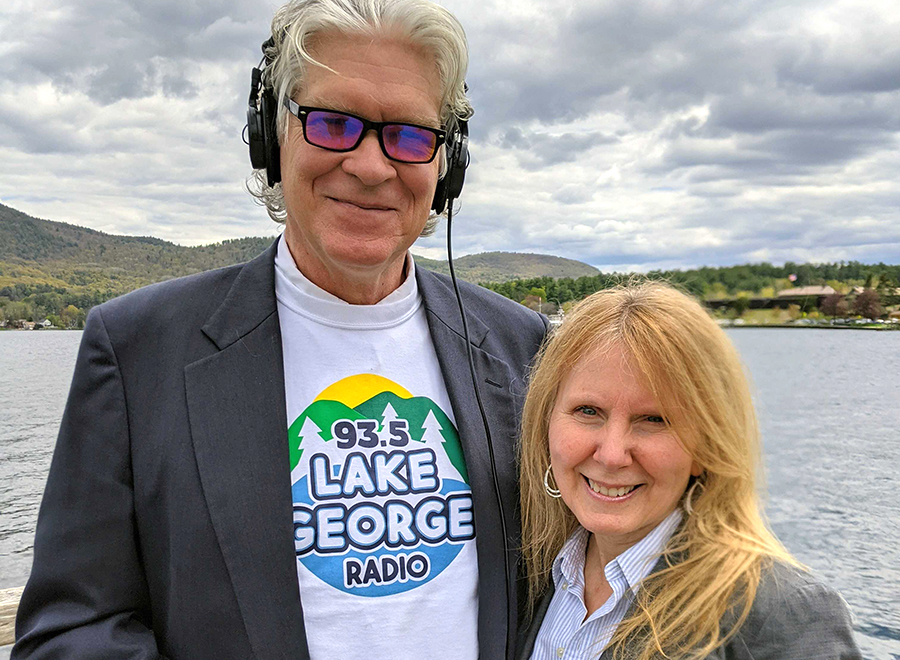 by Andrea Harwood Palmer
A new station dedicated to Lake George and the surrounding region has been started by Loud Media.
93.5 Lake George Radio is broadcasting classic hits from the 1980s and 1990s, with a focus on local information about the Lake George area.
"There's such a vibrant community in Lake George. They deserve a dedicated station. It's a great way for both locals and tourists to stay connected to the area," said Fran Dingeman, general manager at Loud Media.
In addition to music, the radio station will feature a morning show, afternoon show, weather report, boating report, community calendar of events, and local and national news at the top of the hour.
Coverage goes north of Pilot Knob and Diamond Point, west to Stony Creek, east to Fort Ann and south to Exit 17 and Moreau in Saratoga County. The transmitter and tower are at the top of Prospect Mountain in Lake George.
Walt Adams is hosting the morning show. Adams has worked in radio in the Capital Region for most of his adult life. Previously, he was  operations manager at WGNA and PYX 106 radio stations, and worked at 99.5 The River and various other stations. He said he wanted to bring that expertise to a place that he loved and cared about.
"As a longtime resident of Lake George, to be part of a radio station specifically for the Lake George area has just been a dream come true for me," said Adams.
Adams also works at Loud Media's sister station in Saratoga Springs and is the public relations director for AIM Services.
Adams will be hosting the station's morning show between 6-10 a.m. focused on Lake George. News Channel 13's Neal Estano will plug in a weather forecast each morning.
Tracy Villaume will host the afternoon show. Villaume previously co-hosted the morning show at iHeart Media Hot AC 99.5 The River.
Adams is working closely with Lake George Mayor Robert Blais, and will have a Saturday morning segment called "Ask the Mayor." Topics will include questions that are emailed or called in.
"We want to give people examples of how to enjoy the region in a smart, safe, responsible way. It will have a real positive impact. We'll be talking a lot about families and couples. We'll be talking about AirBnb business, which has doubled in the last year. People coming up to Lake George for vacation can go home and listen to the radio station on LakeGeorgeRadio.com. The station online is something they can connect with before and after their vacation, so they feel connected to the region," said Adams.
""I've spent many years travelling Lake George by water, and hiking and camping," he said. "I wanted to keep that connection with an area that I've loved for all these years … People will get new ideas for things to do that they wouldn't be able to get on satellite radio. We have some really unique content features that you wouldn't be able to get on any other radio station."
"We're excited to be a voice for the community and the region of Lake George," said Dingeman. "This is a way for people to stay connected with all the things happening in the area. It's a great hometown station for the village and lakes region."
"Moving ahead, we look forward to bringing more and more voices on the air. We want to give influencers of the region a voice to announce what's happening and inform the community," said Dingeman.
"Loud Media looks forward to connecting the dots between Saratoga, Glens Falls and Lake George, so that the Northway Corridor is covered with quality broadcasting. We're firm believers in local radio. It isn't easy, and it's more involved—but we believe that the only way radio will have good listenership or sustainability is through being the local voice of the community," said Adams.
The website is www.lakegeorgeradio.com. The website has a free streaming app that is compatible with both iPhone and Android devices. The station is active on Facebook, Instagram and Twitter.