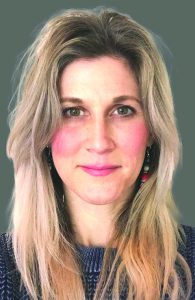 Local small-business marketing consultant Megan Seeley has been hired by the Lake George Regional Chamber of Commerce and the Convention & Visitors Bureau as its new marketing coordinator.
After working locally for nearly a decade in small-business marketing consulting, Seeley joins the team of convention sales manager Christine Thorne, tourism training manager Roger Allan and Executive Director Gina Mintzer, who oversees the  Chamber and the Convention and Visitors Bureau.
"We are thrilled to add Megan Seeley to the team. Her experience and expertise will help us reach our marketing goals of amplifying the Lake George Area brand message to the group markets," Mintzer said.
Seeley said she  looks forward to becoming more integrated into the Lake George Area community.
"The Lake George Regional Convention and Visitors Bureau is such a great platform for connecting with major influencers in the community, exploring the region with a wider and deeper lens, and also learning about a really exciting and evolving industry," Seeley said.
Some of her goals include: fortifying relationships and support with local partners; enhancing a brand for the LGRCVB that embraces the leisure linchpin while enticing the regional and national meeting and wedding markets; and having a strong and consistent digital presence.
"With all of the present challenges due to the pandemic, it's even more crucial that we remain visible, open, and ready for business. This can only be accomplished through our community relationships and constant digital outreach," she said.
Seeley has worked in the nonprofit realm, with her most recent experience at the Girl Scouts of Northeastern New York. She has consulted and been employed at several local businesses such as: Seeley Office Systems, St. Mary's Church Glens Falls, the Patient Experience Project in Saratoga Springs, and the Priory Retreat Center in Chestertown.
Officials said that with the ever-changing landscape of marketing, she has learned to equip herself with experience across many facets of small-business marketing, including: website design, social media, graphic design, and brand management. She has also developed and driven full marketing campaigns.
Seeley holds a Master of Science in Teaching in Education from SUNY Plattsburgh and a bachelor's degree in marketing and communications from Bryant University.
The LGRCVB is a division of the Lake George Regional Chamber of Commerce and works as an extension of the Warren County Tourism Department. While the Tourism Department markets Warren County to the leisure consumer tourism market, the mission of the LGRCVB is to bring year-round, weatherproof group business to Warren County in the form of meetings, conventions, reunions, sports events, weddings, and more.