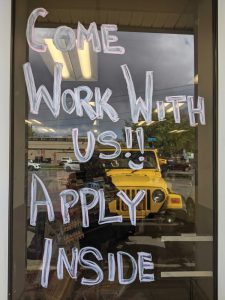 By Susan Elise Campbell
Adirondack Regional Chamber of Commerce CEO and President Michael Bittel has noted that "when the time is right and we are fully open again, people will get out again locally and spend money to support our region."
Vacationers appear to be ready, as are locals who want to enjoy summer at the lakes, resorts, restaurants, shops and venues in the North Country. But it will be difficult for businesses to post profit this season, according to people in the hospitality and retail industries, without adequate staff to serve consumers.
"It's not just Lake George. Hiring is a problem across the country," said Gina  Mintzer, executive director of Lake George Chamber of Commerce.
The region had low unemployment going into the pandemic, Mintzer said. Now the demand for workers greatly exceeds the supply. The reasons include changing family schedules, safety fears, fewer immigrant worker visas, bigger unemployment checks and transportation gaps, said the experts.
"Families are juggling fluctuating work schedules," said Liza Ochsendorf, director of Warren County Employment & Training Administration. "This doesn't allow parents to have a consistent routine with work, school and child care."
"There is also the fear of pursuing customer contact jobs" and possible exposure to someone with the coronavirus,  Mintzer said.
To help combat that fear, early in the pandemic the Lake George Chamber initiated a Safety Pledge program for businesses that met specific health and safety guidelines. The program addressed best practices for safely reopening four sectors of tourism in Warren County: hospitality, food and beverage, retail, and entertainment as well as the general business community.
Another in the confluence of factors in the hiring dilemma is that applications for  exchange work visas are at a fraction of what they were in prior years, reducing the pool of foreign workers coming into the U.S. to staff tourist attractions and supporting businesses upstate.
"Pre-COVID, foreign consulates did hundreds of interviews a day. But since reopening , they can do only a few dozen" because of on-site safety mandates, said Mintzer.
"One sponsoring agency believes in-person interviews can be waived, especially if the individual is reapplying from a previous year," Mintzer said.
Each participating country's program changes daily, as COVID restrictions change frequently, "which can directly impact the visa application approval process," said Jason Lee, marketing and communications supervisor for Six Flags Great Escape Resort. "Our goal is to hire 1,500 employees annually and we expect a smaller number of 'work and travel' students this season. Turkey has notified us we will not see any students from that country this year."
Like many businesses, Six Flags Great Escape has upped the hourly rate of pay for key positions from $15 to $18 for applicants age 18 and older and has offered perks for applicants and their families to give the resort "a solid advantage in hiring locally," said Lee.
"Great Escape is offering competitive wages, free admission to any Six Flags park, employee discounts, and paid training," Lee said. "Anyone who joined our team before May 9 scored themselves and three family members a free Gold Membership Plus."
Warren County Employment and Training teamed up with Hamilton-Essex BOCES for a virtual job fair on April 23 that brought 200 high school students into contact with dozens of employers, including Lake George Steamboat Co., Fort William Henry Hotel and Resort, and Castaway Marina.
"This was an opportunity for employers to speak directly to local teenagers and to explain how they can bank some good money while also helping the local economy," said Ochsendorf, who spearheaded the event.
Employers say they cannot lure the  unemployed out of the system paying an extra $300 per month federal enhancement plus allowing them to work part-time without losing any benefits. The federal enhancement is scheduled to expire on Sept. 6. Whether U.S. Congress will curb the benefits should be decided soon.
Mintzer said new hires "are worth more now coming into the door because there are so many opportunities from the standpoint of hourly pay and benefits. Some of the jobs available now won't be there in the fall."
"This is the time to shine in a role, which may be something a young person can become passionate about," said Mintzer.
"Fewer teenagers would have had summer jobs right now were it not for outreach though social media and job fairs," said Ochsendorf.
Lake George Chamber of Commerce launched its Lake George is Hiring website along with directed social media marketing, all with the goal of reaching outside the immediate area for employees.
"There is plenty of opportunity in hospitality, transportation and accounting," Mintzer said. "Employers are using perks, housing, and 'glamping' to attract employees to a fun, different place to live and pursue a new career."
"We have several examples of students who started with Six Flags Great Escape in high school, many at 15 years old, and are now senior managers at our resort," said Lee.
"Our youth have been trapped inside at an age when they need to develop social skills, and I'm worried about what the pandemic is doing to them," said Ochsendorf. "Taking a summer job is so important not only to their job-readiness development but also their socialization."
"We are so optimistic for a great summer season, but also scared," Mintzer said. "We have family businesses and entrepreneurs in this area. If they can't give their visitors the experience, they may have to cut back."