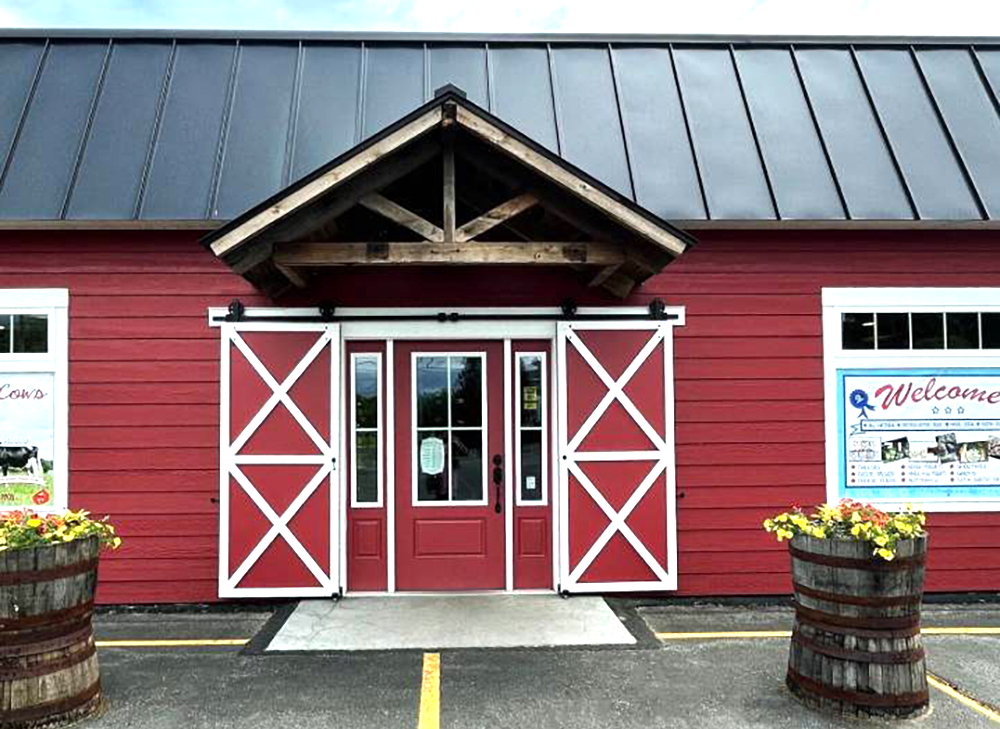 by Erin Nudi, GlensFalls.com
The Argyle Cheese Farmer, which purchased a spot for expansion in Hudson Falls in 2020, is continuing to sell its popular products, but with an intention to also educate people on how it is made.
The owners, Marge and Dave Randles, said they were looking to expand from the 1,200-square-foot processing facility in Argyle, as demand for products had outgrown the original Cheese House. The Lewis Super Grocery building in Hudson Falls went up for sale and it had the necessary infrastructure they were looking for, including a commercial kitchen, processing and warehouse space. There is also  room for an observation/educational area, and a sizable parking lot.
The idea for an observation room come about from the owners' observation that people don't have strong awareness of how food is produced.
"Our observation area at the store, as well as our videos, newsletters, and occasional farm tours, help provide customers with a bit more insight into our food production processes. The observation room is an excellent asset providing customers a chance to see milk being crafted into the delicious dairy products offered at the store," they said.
The store opened in the spring of 2020 in the midst of the pandemic. The business is offering several combined farm and dairy processing plant tours to share with customers information on what goes into bringing products to customers' tables.
The opening of the store provided an opportunity to partner with Ideal Dairy of Hudson Falls. They provide all of the milk and work together to grow the business. They stopped packaging their milk under their own label in 1987, and this venture provides a  chance to re-engage with the community in a more significant way.
"We hope to bring people back to dairy, because there's no comparison in flavor and nutrition," said the owners.
In addition to dairy products, the Argyle Cheese Farmer also makes home-baked goods and prepared frozen meals, ready to cook. There are also frozen dairy treats like ice cream, gelato, sorbet, frozen yogurt and individual cheesecakes in glass jars.
The business carries beef and pork responsibly grown from local farms, as well as cheeses like Jake's gouda and Maplebrook Farm mozzarella, custom roasted coffee beans from Battenkill River Coffee, cookies from Sugar Cookie's Bakeshop, fresh eggs from Thomas & McMurry Sunset Farm, chocolate from Saratoga Chocolate Co., granola from Raspberry Fields Farms, and more.
Most of the products that come out of the kitchens use at least one of the Argyle Cheese Farmer dairy products. In addition, all the products are made from scratch and only use natural ingredients.
The hours are 8 a.m. to 7 p.m. Monday to Saturday, and 9 a.m. to 7 p.m. Sunday.