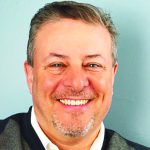 NBT Bank announced Mark Sidoti has joined the company as a community banker.
He is based at the NBT office located at 295 Broadway in Saratoga Springs.
As community banker, Sidoti will be responsible for managing customer relationships and serving as a financial partner for the Saratoga Springs and Glens Falls region.
Sidoti brings more than 30 years of business development and sales experience in the telecommunications, payroll, outsourcing, and employee benefits industries.
An active member of the community, he serves as the treasurer of the Glens Falls Civic Center Foundation board, and as an ambassador for the Adirondack Regional Chamber of Commerce and the Saratoga County Chamber of Commerce.
***

Upstate Agency LLC announced that Kevin Rucinski recently joined the team as commercial lines practice leader.
Rucinski will be responsible for the management, leadership and growth of the commercial lines division, including oversight of day-to-day operations, projects and profitability goals. He will develop and execute both strategic and tactical plans to ensure long-term success, client retention and growth of the commercial lines practice.
Rucinski brings more than 14 years of insurance experience in the greater Capital Region to the company.
He is certified through the International Risk Management Institute (IRMI) as a construction risk insurance specialist (CRIS), and through the National Underwriter Company as a commercial lines coverage specialist (CLCS). He is licensed with the New York State Department of Financial Services as a property and casualty insurance agent/broker.
He holds a Bachelor of Science degree from Roger Williams University in Bristol, R.I. He currently lives in Wilton.
***
Valeri Collier has joined the Lake George Regional Chamber of Commerce & Convention and Visitors Bureau as the receptionist and office assistant.
Additionally, Meg Bell was hired as a sales manager.
Collier has worked in hospitality for nine years, most recently at the Lodges at Cresthaven. She joined the Chamber team in July  after 20-year receptionist and office assistant Sandy DeKleine retired.
 In addition to regular office duties, Collier provides one-on-one assistance to travelers who call, email and visit the main office. In her first month, she assisted hundreds of phone calls from visitors helping them find information on what to do in the area as well as where to eat, shop and stay. She also works to ensure members are taking full advantage of their benefits.
Bell began her career as a Catering Sales Coordinator at a wedding venue near her hometown of Bay Head, N.J., followed by a move to Nashville, Tenn. to work as an event services and catering manager at the Country Music Hall of Fame & Museum.
After moving to Saratoga Springs in 2016, Bell sold and planned both on-premise and off-premise events as a Hall of Springs-based catering sales manager for Mazzone Hospitality.  She most recently gained experience in the hotel industry as an events and catering sales manager at the Saranac Waterfront Lodge.
Bell's position involves regular sales calls to the Albany/Capital Region-based state associations and corporations in addition to regional and national contacts to ensure that the LGRCVB services are understood and made available regularly.  Active participation in state, regional and national industry associations to maximize the visibility of the Lake George area are also priorities for Bell in her role.
Overall, she will prospect and generate new business relationships to achieve booked business and overnight room goals, and secure future bookings that will meet or exceed rate and occupancy goals of the destination partners throughout the Lake George area.
Bell graduated from the Culinary Institute of America with an associate's degree in baking and  pastry arts and a bachelor's degree in hospitality management.