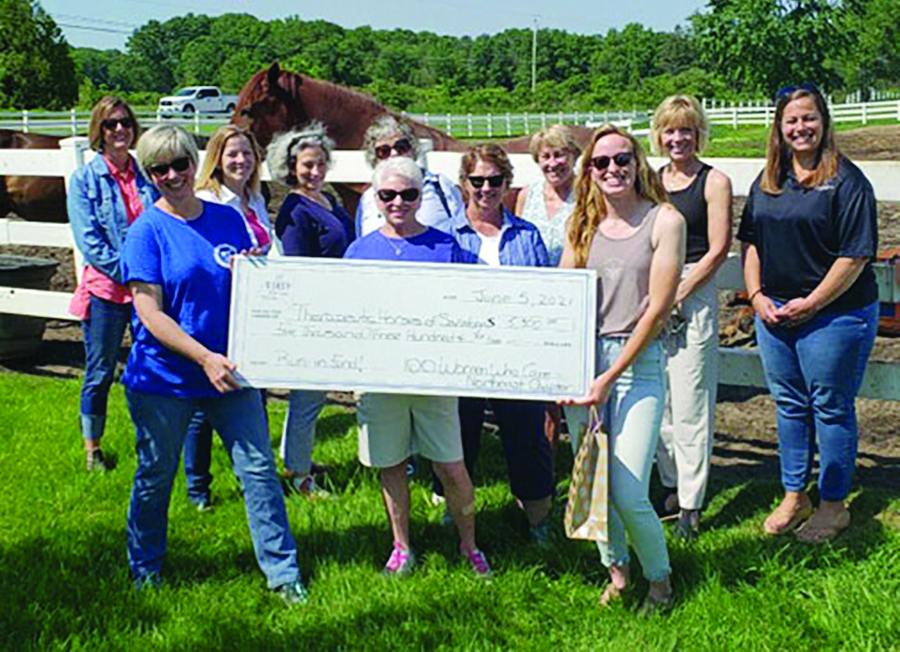 Therapeutic Horses of Saratoga in Saratoga Springs received a $5,600 donation from 100 Women Who Care Northeast Chapter. 
THS is a nonprofit organization that provides psychological therapy services to children and adults through the use of retired race horses that have been rescued by the organization. The donation will be used to build a new run-in shed and make other improvements to their facilities.
100 Women Who Care Northeast Chapter consists of a group of women who are from Warren, Washington, and Saratoga counties. 
They support the concept of "collective philanthropy" by pooling their donations for a different non-profit organization each quarter. The group held its first meeting in February 2020, starting with 36 women and gradually growing to the current 70 members. 
To date, the organization has  donated more than $23,000 to local non-profit organizations including Gateway House of Peace, WAIT House, Wellspring, THS, and the Warren/Washington CARE Center.
The 100 Women Who Care concept is designed to be simple and efficient, yet with a significant financial impact. The women meet for just one hour every three months to choose from a pool of local non-profit organizations that are nominated by group members. Each member then donates $100 to the organization that receives the most votes during the quarterly meeting.
Founding members include Cheryl Meyers, Beth Purdy, Lori O'Neil, and Jeanne Rizzo. 
Women wishing to learn more about the organization are encouraged to visit www.100wwcne.org. An online registration form is available at  www.100wwcne.org for women who would like to join.