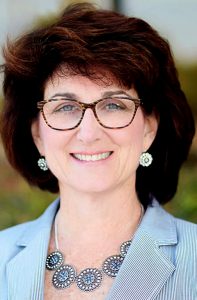 Glens Falls Hospital President and CEO Dianne Shugrue will retire Dec. 31 after a 14-year career at Glens Falls and 40-year career in health care. 
Paul Scimeca Sr., vice president and chief operating officer, has been named interim president and CEO. 
Shugrue led the hospital during the COVID-19 pandemic, through significant financial challenges, a historic affiliation with Albany Medical Center and national health care accreditation. 
"Dianne Shugrue took over as president and CEO of the hospital at a crucial time," said Glens Falls Hospital Board of Governors Chair George Ferone. "Her steady, courageous leadership, collaborative and personal approach and deep knowledge of health care have paid huge benefits for this hospital and this community. She has been a fierce advocate for our physicians, nurses, staff, community and the institution itself. "
Dr. Chris Mason, president of the Glens Falls Hospital Medical Staff, said Shugrue "has experienced many challenges during her tenure, from navigating the uncharted waters of COVID19 to leading the institution through a major affiliation. This visionary leadership has helped Glens Falls Hospital maintain critical services for the community and provide opportunities for collaboration with partners in the Capital Region. Glens Falls Hospital has a tremendous future ahead due to Dianne's foresight."
Among Shugrue's most significant accomplishments include cementing the affiliation between Glens Falls Hospital and the Albany Med Health System.  In addition, this year Glens Falls Hospital received Magnet Recognition from the American Nurses Credentialing Center (ANCC),  one of only 8 percent of all hospitals in the U.S.  to receive this milestone achievement.
"As a team, we have come through some amazing highs and lows together," she said. "But in the end, we can all be proud of how this indispensable community hospital has always been there for the people we serve. Whether through a once-a-century pandemic, achieving Magnet Recognition, or making sure that state-of-the-art, compassionate, high-quality healthcare is a permanent fixture in the North County,  Glens Falls Hospital really has been here through it all.  I am so proud of the team here. It has been the honor of my career to serve as CEO of this hospital."
In June of 2013, Shugrue was appointed president and CEO of Glens Falls Hospital. She joined Glens Falls Hospital in 2007 as its executive vice president and chief operating officer. 
Prior to joining Glens Falls Hospital, she held various healthcare leadership positions including vice president for nursing governance at the University of Massachusetts Memorial Healthcare System, vice president of patient care services and chief nursing officer at Orange Regional Medical Center in Middletown, N.Y., and executive vice president/chief operating officer and chief nursing officer at  Ellis Hospital in Schenectady . 
Glens Falls Hospital maintains a service area that spans 6,000 square miles across five  counties. Founded in 1897, it operates an advanced health care delivery system featuring more than 20 regional facilities.
The main hospital campus is home to the C.R. Wood Cancer Center, the Joyce Stock Snuggery birthing center, the Breast Center and a chronic wound healing center. The hospital is a nonprofit organization and the largest employer in New York's Adirondack region, with over 2,500 employees and a medical staff of over 460 providers. For more information visit www.GlensFallsHospital.org.