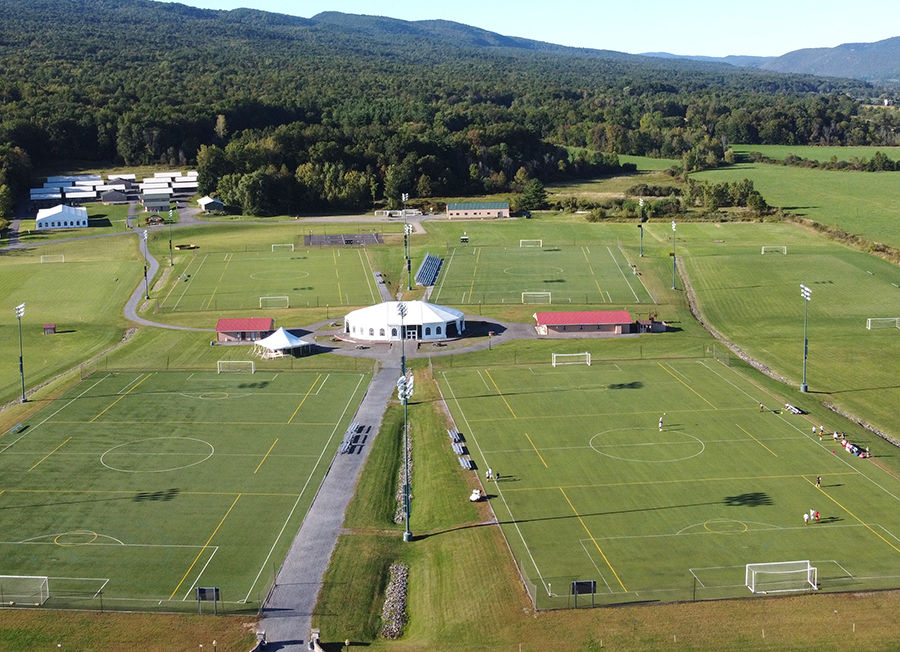 By Lisa Balschunat
Golden Goal Sports Park recently installed two lighted outdoor basketball courts to its complex in Fort Ann, with pickleball courts next on the facility's installation agenda. 
In operation for 15 years, Golden Goal is a 196-acre sports complex designed in the style of an Olympic Village. The property at 495 Goodman Road touts eight outdoor fields for soccer, lacrosse, field hockey and flag football, training, games and tournaments. Four fields are natural grass. Four are artificial turf.   
According to Emmie Doin, facility director, the complex—promoted as the Northeast Premier Residential Sports Venue—offers practice times, sports retreats, tournaments, a college internship program, and has 25 cabins that can sleep up to 400 people.  Field rentals are available for professional organizations, clubs, colleges, academies, high schools and travel teams.
"Golden Goal gives young athletes a place to fine-tune their skills, compete in games and tournaments, and train outdoors," she said.
Players, team staff and chaperones can participate in 2-day to 7-day programs that include meals and all of the amenities in the Athlete's Village and staff lounge.
"The Athlete's Village includes outdoor activities like spike ball, can jam and cornhole and indoor activities include ping pong, air hockey, televisions, Xboxes and PlayStations," she said.  "We also have a challenge course for athletes to work on their team building skills while having fun."  The course includes a 10-foot vertical wall and tire flips. 
"It's something that someone can do alone," she noted, "but it's designed to encourage a team to work together."
Golden Goal had its own challenges during the pandemic, but found creative and safe ways to operate. 
"We adjusted our dining tent by removing the skin over it and the side walls to create an open-air dining space," Doin said. "We moved our bunks around. We reduced capacity and followed the necessary protocols."
Golden Goal forged on and established safe policies for its participants that now includes producing a negative COVID-19 test a set number of days before arriving at the complex.
She said, "It was phenomenal this summer to see kids out playing sports they love, carefree and unencumbered.  You know, young athletes follow the rules. If we have a mask mandate or a negative test requirement in place, they follow those rules too, so they can play the sport they love."
Golden Goal employs 20 full-time seasonal staff and five year-round employees.
Each summer, the company mentors college students majoring in sports management, business, sales, finance and economics, under its college internship program. 
"Last year, we had a student from Georgia.  In previous years, we've had local students, as well.  It is one of my favorite programs.  College kids are so engaged and enthusiastic about their future careers. We work with them to tailor their experience here to what they're passionate about," said Doin.
Jeff Braun, owner of Golden Goal, is on site daily in the summer to talk with the athletes and to get their input about how to make Golden Goal an even better experience.  College, high school and younger participants share their ideas with Braun, hence the installation of the basketball courts this year.
Golden Goal is currently booking team practice sessions and tournaments for next spring.
"You don't have to be connected to a specific program or tournament to participate at Golden Goal," Doin added. "Anyone can join in the fun here."
The complex also offers individual and small group bookings.
For more details, call (855) 355-4625, or visit www.goldengoalpark.com