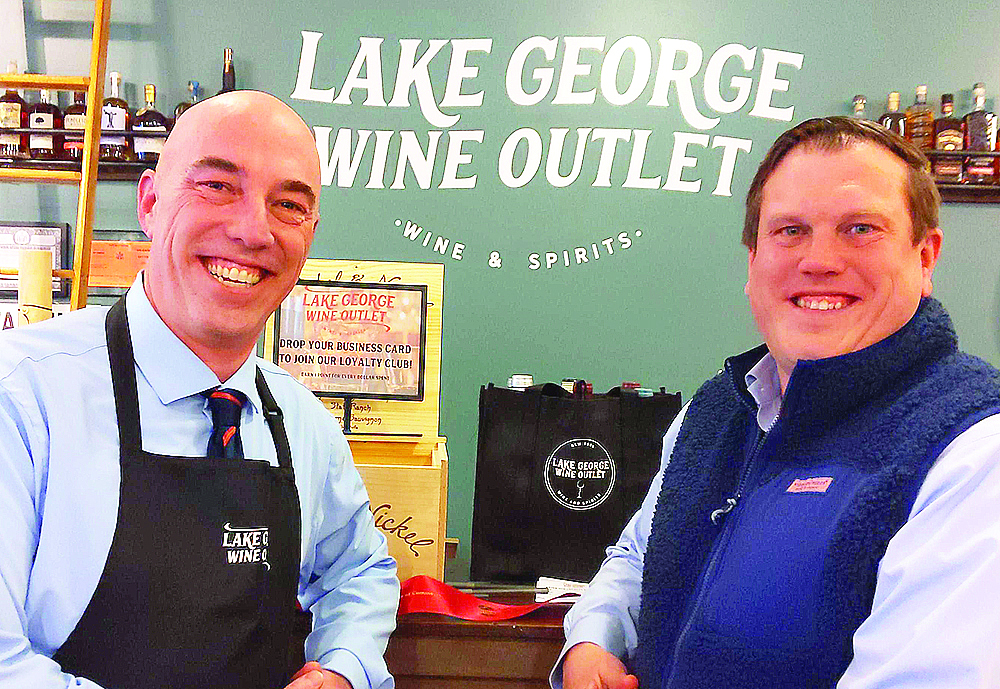 By Jennifer Farnsworth
The Log Jam Outlet Center Route 9 in Lake George has a new tenant that is adding a spark to the shopping center.  
Lake George Wine Outlet had their official grand opening in mid-February. Store manager and marketing strategist Andrew Meager said the store will give bargain shoppers a chance to enjoy some discounted pricing on their favorite wine and spirits. The store doesn't carry just wine. Various bottles of liquor are available.
Delivery service is being planned for the spring.
"We will try to offer as many specials as we can to our customers. If we are able to get cases of something at a good price, we will then extend that to our customers," he said.
Zachary Moore, who owns the 3,000-square-foot space, said they consider themselves lucky to have Meader running the store because he has a lot of experience in marketing. 
Moore is a managing partner of Spruce Hospitality which operates the Queensbury Hotel and Fairfield Inn and Suites. He is also third party manager of the Ticonderoga Country Club and property manager for French Mountain Commons and the Log Jam Outlet Center. 
The Outlets are also home to his other entrepreneurial ventures, Coastal Society and The Candy Space.
Moore said they are excited to have some well known retail stores in the Log Jam outlets, especially those that neighbor the new wine store.
"With the retail apocalypse and pandemic over the past several years, it led us to have some space available" and the wine outlet store was a good fit.  "It's convenient for our RV parks and the tourists who come into town. He have even had people stop on their way to places like Killington. So far, we are very encouraged with the amount of people we have had coming in," said Moore.
He said they were slightly hesitant about opening a store in what is historically the slowest part of the year for retail, but he is encouraged by what he has seen so far and expects the foot traffic to continue to grow.
Lake George Wine Outlet is open Monday through Thursday from 10 a.m. to 8 p.m.; Friday and Saturday 10 a.m. to 9 p.m.; and Sunday from noon to 6 p.m. 
Its website is lakegeorgewines.com and the phone number is 518-636-5940.