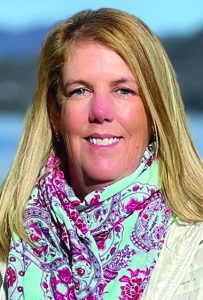 Glens Falls native Tyra (Lundgren) MacGuffie has returned home to become the new director of development for the Lake George Association.
MacGuffie, a 1985 graduate of Glens Falls Senior High School, joins the LGA after four years as director of advancement for Green Mountain Valley School, a premier ski academy in Waitsfield, Vt., that counts 26 Olympians among its alumni. In that role, she oversaw a $7 million capital campaign for the development of a world-class training and race venue.
MacGuffie said Lake George has never been far from her thoughts. She grew up spending summers on the Lake at a Route 9L camp that dates back to 1845 and was purchased by her grandparents, the late Thor and Donna Lundgren, in 1950. MacGuffie now co-owns the camp with other family members and visited regularly while living away.
"I am thrilled to join the LGA at a time when it is poised for tremendous growth and a significant acceleration of its Lake-protection capabilities," MacGuffie said. "I am excited to be a part of an organization that has a mission I am passionate about, in a community that I respect and care for deeply, and where I feel a can make a significant contribution."
MacGuffie's accomplished development career in the nonprofit sector also includes 12 years in the state of Idaho as director of development for the independent Community School and for Higher Ground Sun Valley, an organization providing therapeutic recreation to individuals and veterans with physical and cognitive disabilities.
Prior to entering the development field, she served as soft-goods buyer and manager for a major outdoor recreation gear and apparel retailer with four locations in and around Sun Valley, Idaho. Her responsibilities included management of retail staff, communications and marketing, and special events planning.
"If you have spent any significant time on Lake George, you are constantly in awe of its beauty," she said. "Some see it with their eyes, but most of us, especially those who have lived here, feel it in our hearts. We drink the water, so, quite literally, it is a part of us."
LGA President Eric Siy said her love of Lake George "is as clear as the lake itself. It's a love she shares with the LGA's leading supporters and partners, and I look forward to working with her to take our development program to new levels of success as now needed for the sustainable protection of our Lake."
MacGuffie holds a bachelor's degree in psychology from Syracuse University. She has an extensive history of community service, including serving as an adaptive alpine ski instructor.
The Lake George Association is the preeminent Lake-protection organization, providing technical and financial assistance to property owners via research and direct protection programs through The Jefferson Project, the Lake George Waterkeeper, and an array of public-private partnerships, public education programs  and public policy advocacy, all with the goal of protecting the lake's water quality.