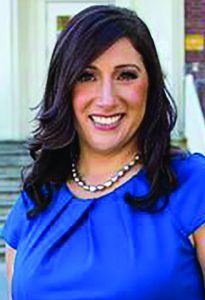 By Christine Graf
Less than four years after establishing her first State Farm insurance office In Queensbury, agent Paula Traina is preparing to open a second office at 80 Warren St. in Glens Falls. 
Prior to becoming an independent agent, she held a corporate leadership position at State Farm. During her 14-year career with the company, she earned an M.B.A. as well as numerous professional certifications.
When the company consolidated operations and closed its corporate location in Malta, many Capital Region-based employees relocated to State Farm hubs in Atlanta, Dallas, or Phoenix. Traina was managing corporate training at the time, and instead of relocating, she decided the time was right to open her own independent State Farm office.
"I always knew I was going to go in this direction but didn't want to do it until I felt professionally ready to do it," she said. "I wanted to go through the leadership program at State Farm and get experience on that side before I wanted to risk my own finances. I'm now self-employed, so it was more of a financial undertaking to go from being a corporate employee to being independently owned and operated."
State Farm was aware that Traina was interested and approached her when there was an opportunity in Queensbury.
She opened Dec. 1, 2018 in a new office. 
"I had no clients on the first day. I had very little experience in sales, and my entire background was in service. I handled claims, I managed claims and I taught people how to handle claims. I knew I was going to do well. I just knew it was going to take a lot of work." 
After hiring three employees, Traina and her team hit the ground running. Business grew through referrals, outreach, and extensive online marketing. Her staff doubled in size. 
Her office writes policies for both individuals and corporate clients.
The opportunity to open a second office in Glens Falls presented itself after the late Dick Saunders made the decision to retire after 65 years as a State Farm agent. It is only recently that State Farm has allowed independent agents to operate more than one location. Of the approximately 19,000 State Farm agents, only several hundred are multi-office agents.
 "Dick was sort of an icon within the State Farm community, and a pillar in the community. Dick and I maintained a friendship over the last few years, and I have a lot of experience with his customers because I was helping him for the last year," said Traina. 
State Farm agents don't own the insurance policies they have written for customers. So when an agent retires, their book of business goes back to the company. After Saunders announced his intention to retire, State Farm began interviewing agents who were interested in replacing him in Glens Falls. 
It was a competitive process. She was ultimately selected .
Traina is in the process of hiring three employees for the Warren Street office that will open on April 1. 
Finding qualified employees has always been a challenge. The employee shortage that resulted from the pandemic only exacerbated the situation.
"I was in a corporation where I had a whole team of recruiters doing it for me. When a candidate got to me for an interview they were already pretty much cream of the crop," she said. "Now I have to do everything myself and I have learned to outsource some of that in order to manage my time better. But I have great people right now and I'm seeing that candidate funnel starting to open back up."
Traina said she will rely on her employees more than ever as she splits her time between two offices. 
"My word of the year is going to be 'delegation.' I have an excellent team, and I've been really focused on building that team and teaching myself and my team what can be delegated."
Despite the challenges associated with being a small business owner, Trainor couldn't be happier with her decision to go out on her own.
"I love interacting with my customers and my team every day. I love being involved in the community, knowing my customers, and being able to help them."