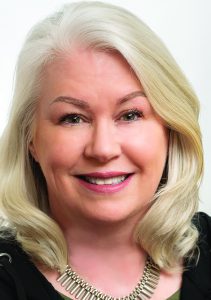 SUNY Adirondack announced the appointment of Rachael Hunsinger Patten as the college's chief advancement officer and executive director of the SUNY Adirondack Foundation.
Patten has nearly 30 years of experience in fundraising and higher education, including having served as executive director of Development, Alumni Relations and SUNY Adirondack Foundation from 2012 to 2018. 
"Rachael is a longtime regional resident with deep roots in the community and an inspiring history with SUNY Adirondack," said Kristine D. Duffy, Ed.D., president of the college. "We're excited for Rachael and her team to help us further develop relationships with area businesses, organizations, investors and alumni that will advance our strong network of donors in support of college needs." 
As CAO, Patten is the college's chief fundraising officer, developing long-range strategic leadership and daily administration of the Foundation, Development and Alumni Relations. She is responsible for fostering relationships to support college programs and initiatives.
"When I first started working here, it clicked," Patten said. "It felt like home."
A graduate of Ithaca College, Patten has dedicated her career to higher education and nonprofit organizations, including work at Skidmore College, Albany Law School and Lower Adirondack Regional Arts Council (LARAC). At the latter, she said she fell in love with fundraising. 
"That became the most rewarding part of the job," she said. "Fundraising is the best career: It's listening to members of your community talk about their values and matching those to your organization's mission and, together, building great things."
She joins SUNY Adirondack after working in development at a large community college in Pennsylvania. 
"I loved living in suburban Philadelphia, but I have a really wonderful network of friends in this community and, after a year and a half of COVID, being so far away from them and family was wearing on me," she said.
"Education transforms lives. Community colleges, in particular, are uniquely suited to empower individuals, elevate families, strengthen community groups and support our workforce," she said. "It's exciting to be part of that mission."
Patten can be reached at 518-743-2255 or pattenr@sunyacc.edu.
SUNY Adirondack Foundation is a 501(c)3 charitable organization established in 1983. Its  primary function is to provide financial support to the college and its students. Funds are raised and distributed as student scholarships, faculty/staff professional development grants and to support college-related special projects. 
To learn more or make a donation to the Foundation, visit www.sunyacc.edu/give.