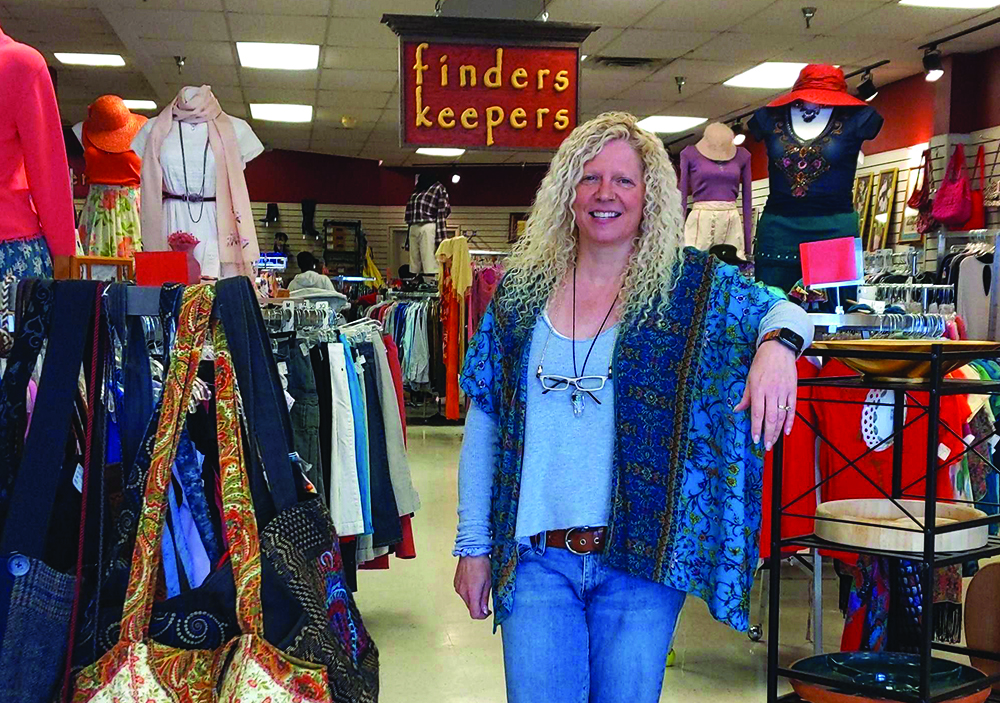 By Jill Nagy
Finders Keepers, Kyleen Wade's second hand shop, sells clothing and "anything that a woman surrounds herself with to look beautiful," she says.  
After 19 years in Glens Falls, she opened a second store in mid-March in the Queensbury Plaza on Upper Glen Street.
Wade sells clothing, jewelry, mirrors, purses, shoes, and other objects, most of it on consignment. She also offers "a little bit of furniture, but it's hard to keep in the store." 
Recently, she added men's clothing to her stock. From time to time, she gets antiques to sell.
She said "people are finding me and re-finding me," as old customers return and new ones arrive. Business "is great. It's wonderful. It's everything I could have dreamed of."
The new store is about 4,500 square feet, considerably bigger than the tiny shop she began with in Glens Falls. At the time, she was living in Vermont and she learned of the availability of a turnkey business on Glen Street in Glens Falls selling "used stuff." She bought the business, added a lot of product and "it was all gone in a week."
Later, she moved to the former Shirt Factory on Broad Street and began advertising for merchandise to sell on consignment. She advertised it as an opportunity to recycle and "find homes for the wayward." 
"It was my pitch on how to save the world, one shirt at a time," she said. Her Glens Falls store is now at 206 Glen St. and still thriving. She shares proceeds 50/50 with consignees.
Wade first became interested in the consignment business as a college student. She wrote a research paper about it for a business law class. The paper concentrated on the legal and business aspects of the consignment model but it whetted her appetite for the less theoretical aspects of the business..
Wade now divides her time between the two outlets and is assisted by five employees. She finds Queensbury Plaza a comfortable location with "a lot of like-minded businesses." 
She and her husband, Adam York, a contractor and painter, spent "hours and hours" refinishing the floors and they painted the store in shades of maroon, gold, yellow, and gray. Her husband built dressing rooms. He was, she said, "the brains behind the renovation." 
The store also has the pandemic accoutrements of plexiglass shields, masks available and "hand sanitizer everywhere"
Wade had to close down for a few months early in the coronavirus pandemic. However, with people at home cleaning out their closets, she had no shortage of things to sell after reopening. 
Finders Keepers is open from 10 a.m. to 6 p.m. Monday to Saturday and from noon to 4 p.m. on Sunday. Information is online at finderskeepersny.com. The telephone number is 518-761-5475.