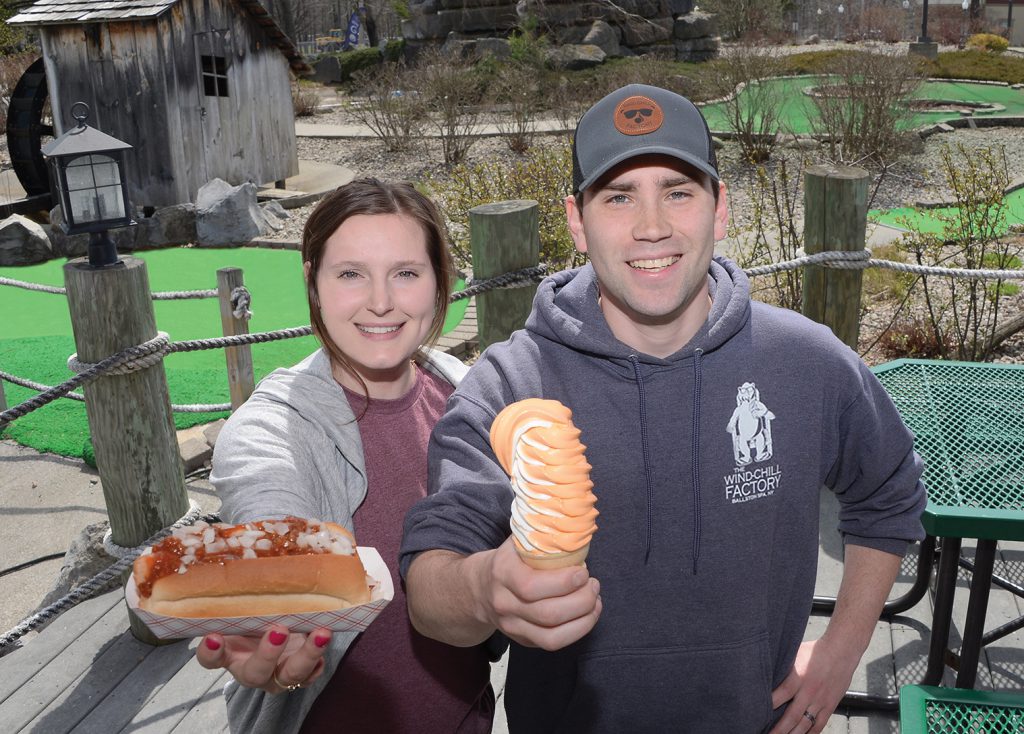 By Christine Graf
Husband and wife Brandon and Keely Whalen of Wilton— whose family opened the Wind-Chill Factory in Ticonderoga in 1996—recently opened Wind-Chill Factory, a seasonal ice cream, food, and miniature golf business at 3 Trieble Ave. in Ballston Spa.  
The flagship location of Wind-Chill Factory was opened in Ticonderoga by Brandon's father, Bobby Porter. Brandon grew up working at Wind-Chill Factory. He met his future wife while they were classmates in high school. Keely's parents, John and Roberta Cooper, own Frenchy's, a roadside food and ice cream business in Crown Point in Essex County. 
"They purchased it when I was two years old, so I literally was born and raised in the industry," said Keely Whalen of Frenchy's. "Brandon was also raised in the exact same kind of business. He worked there all through high school and up until he joined the Navy."
The couple married in 2015 and lived for several years in Connecticut while Brandon was stationed there They relocated to the Capital Region in 2019 after he was reassigned to the Nuclear Power Training Unit in Ballston Spa where he serves as an instructor.
The Whalen's have always dreamed of opening their own Wind-Chill Factory location. 
"We've always said that we wanted to do that," said Whalen. "Brandon's getting out (of the Navy) in a year-and-a half, and we saw the place in Ballston Spa and decided to ask if the owner was open to selling."
The business, Mr. Bill's, was not for sale at the time. The owner made the decision to sell after being approached by the Whalens.
Before opening Wind-Chill Factory on April 7, they restored the miniature golf course with 18 new greens. They also purchased some new equipment and reconfigured the interior.
"There was a lot we had to do, and it was long process," she said."We worked 13 hours a day, and we are both there constantly. I am there Monday through Friday during the day, and Brandon comes on his way home from work and spends a few hours."
Wind-Chill Factory is a seasonal business with outside seating. In addition to serving soft and hard ice cream, it offers a grill menu that includes hot dogs, hamburgers, cheese steaks, fish and chips, salads, clams and shrimp. 
They also plan to host a classic car show every Wednesday.
The business employs 35, and the number is expected to increase during peak summer months. 
"Our Ticonderoga location is very well-known," said Whalen. "When people go camping at Lake George, they will drive from Lake George to Ticonderoga just to go there. It's a very popular Adirondack favorite."
According to Keely Whalen, "Our long-term goal is to open more locations, but right now we want to make sure our attention is focused on getting this running absolutely as smoothly as possible."