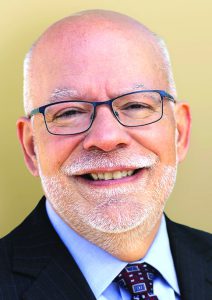 Paul Scimeca, who has served Glens Falls Hospital for three decades, was named the hospital's president and CEO after serving in an interim role since Jan. 1. Glens Falls Hospital is a member of the Albany Med Health System.
He succeeds Dianne Shugrue, who retired in December 2021.
Announcing Scimeca's appointment to staff, Glens Falls Hospital Board of Governors Chair George Ferrone said, "Over his 33-year career at Glens Falls Hospital, Paul has learned every aspect of our clinical and administrative operations. He is respected and admired not only for the depth and breadth of his health care knowledge, but also for his commitment to the Glens Falls Hospital teams he leads, and the communities they serve." 
"Paul was the unanimous choice of our Board for good reason," Ferrone added.
Scimeca earned a bachelor's degree in planning from New York University and a master's degree in health services administration from Russell Sage College in Albany. He has held positions of increasing responsibility since joining Glens Falls Hospital in 1989 as communications manager.  
Scimeca was promoted to director of community services in 1994 and executive director of Adirondack Medical Services in 2000. He later became vice president of physician practice and community health, overseeing the hospital's 16 primary and specialty care practices, and led the development and implementation of the hospital's community health programs. 
In 2015, Scimeca was named senior vice president and chief operating officer. In this role, he led Glens Falls Hospital's COVID-19 response team.
"Paul has been a strong partner in our System mission and leader for health care in the North Country," Dr. Dennis P. McKenna, president and CEO of the Albany Med Health System. "We've worked very closely together to extend more specialized services to residents of the Glens Falls area. I will look to Paul's expertise to inform our future efforts to ensure the good health of our communities now and well into the future."
Scimeca is an active member of the American College of Healthcare Executives and the Medical Group Management Association.  He is also a member of the adjunct faculty of the David D. Reh School of Business at Clarkson University. He currently serves on the board of directors for the Adirondack Health Institute and the Iroquois Healthcare Association. 
He is a past member of the board of directors for the Glens Falls Area YMCA.
Glens Falls Hospital maintains a service area that spans 6,000 square miles across five counties.
It operates an advanced health care delivery system featuring 20 regional facilities. A vast array of specialized medical and surgical services are provided in addition to coronary care, behavioral health care, rehabilitation and wellness and others. The main hospital campus is home to the C.R. Wood Cancer Center, the Joyce Stock Snuggery birthing center, the Breast Center and a chronic wound healing center. GFH is a not-for-profit organization and the largest employer in New York's Adirondack region, with over 2,300 employees and a medical staff of over 550 providers.