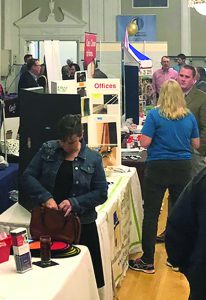 The Adirondack Regional Chamber of Commerce (ARCC) will hold its B2B Expo on Wednesday, Oct. 19, from 4-7 p.m. at The Queensbury Hotel, 88 Ridge Street in Glens Falls. 
The showcase event encourages networking within the business community. It features exhibit booths from regional businesses, as well as food samples, drink specials and door prizes.
"The ARCC Business Expo is a favorite event of our members and business community. We are really looking forward to this event, as it's a great opportunity to showcase our businesses. I would encourage everyone to stop by and discover new businesses and reconnect with old friends," said Tricia Rogers, ARCC president and CEO.
The business showcase features 80-plus regional businesses on display, with plenty of opportunities for networking. It is free to attend, with fees to exhibit. 
ARCC Members can register to exhibit on the ARCC website at www.adirondackchamber.org/events. 
Visitors are encouraged to bring plenty of business cards, Rogers said.
Exhibit setup that day will be 1-3 p.m.
For more information, contact Carol Ann Conover, member services and events manager, at  518-798-1761 ext. 220 or by email at caconover@adirondackchamber.org.
ARCC serves more than 1,000 members, predominantly in Warren, Washington and northern Saratoga counties.