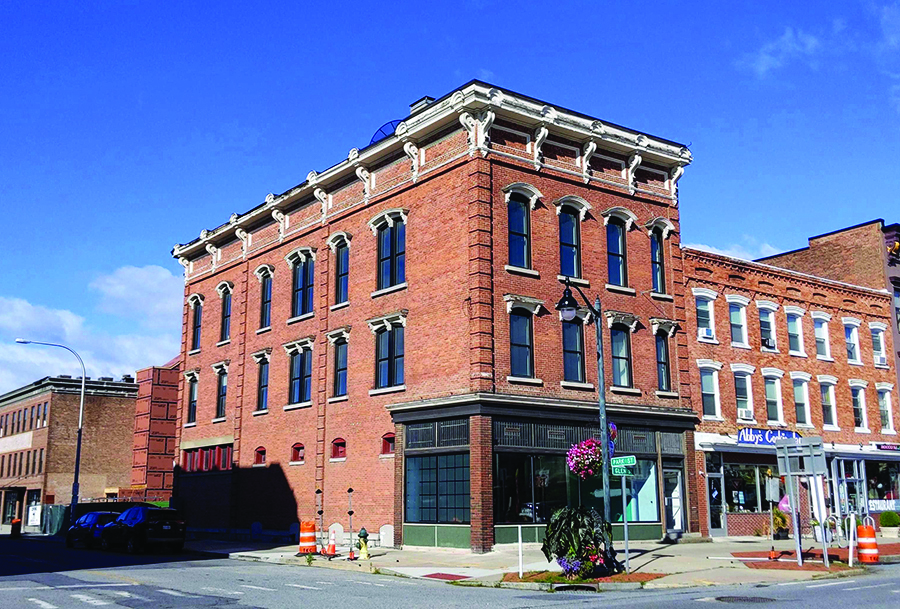 By Christine Graf
A local business has plans in the works to further strengthen Glens Falls as vital part of the North Country economic engine.
Business owner and preservationist Elizabeth Miller recently purchased 126 Glen St. for $845,000. A former Saratoga Springs teacher, she is the owner of Doty Machine Works in Fort Edward and Miller Mechanical in Glens Falls. She has already invested millions of dollars to renovate several historic properties in the city including Park Theater and 15 Park St.
Her newest property at 126 Glen St. was built in 1890 and was the former home of Look TV. The 11,500-square-foot building will require a significant investment, and her property development company is working with city officials to apply for funding through Restore New York. The Restore New York Communities Initiative provides municipalities with financial assistance for the revitalization of commercial and residential properties. 
According to Miller's son and business partner, Ben Miller, operations manager for Park Street Hospitality, "The building needs a lot of work. It needs a similar amount of work to what the building at 15 Park St. has needed. We don't have firm plans for a full gut and renovation right now. We have a tenant who is interested in renting the ground floor in as-is condition and putting a business in there. 
"That will tide us over until we are ready to make a bigger investment in the property. Our current undertaking at 15 Park has been huge, so we want to take a little breather before we move on to this one."
In order to accommodate the unnamed potential tenant, Miller said they will be making some improvements to the building's HVAC and electrical systems.  The property has its own parking lot, which will benefit Miller's hospitality business at 15 Park. A new restaurant and market, Park and Elm, will be opening there this fall. 
"One of the big incentives for us with the purchase was the parking. In purchasing that property, we acquired about 25 spots that we can use for Park and Elm," he said.
Park and Elm is a rebranding of Doc's Restaurant, which is located in the downstairs of the Park Theater. With the opening of Park and Elm, Doc's will be used for private events. 
"Within the last three years we have experienced incredible demand for weddings, corporate events, Christmas parties and things like that in the theater space and the restaurant space downstairs," said Miller. "At the moment, every time we have an event like that, we have to close the dining room to our customers."
By moving and rebranding the restaurant, they will be able to use Park Theater entirely for concerts and private events. Concerts are hosted through the company's non-profit, the Park Theater Foundation which was founded in 2019. 
"We will have a lot of plans for that building as we move forward," said Miller. "But we will keep the name Doc's for that restaurant space. That name has a lot of significance to the building. It was named after Dr. Harold Kirpatrick who owned the space prior to my family and saved the building from the wrecking ball during the urban renewal of the early 1980s."
Doc's will close for regular dining service when Park and Elm, described as a "multi-concept eatery," opens later this year. 
"Park and Elm will have the fine dining portion which will focus on dinner and holiday brunches and that sort of thing. That will follow a similar model as what we have at Doc's. We will have similar food, the same level of service, and the same chef, Matt Delos. That piece will be very comparable to what our customers are used to at Docs," said Miller. 
"Just across the hallway will be a market and deli. It will be all under the same Park and Elm umbrella, but we are going to offer a fast-casual breakfast and lunch service."
The market will carry many of the products that are used in the restaurant. Produce will be sourced from local farms including the Miller's own far, Sunset Farm in Queensbury.
"We will also have local eggs, local dairy, and a full-service butcher counter that has the same cuts of meat that we use in restaurant," he said. 
The renovation of 15 Park has been extensive, and the ground floor formerly contained five separate retail spaces. 
"We took it down to the studs so that it's now one big space," said Miller. "My mother purchased the building in 2019, and we got underway with the renovation project just before COVID. We've definitely had our struggles on supply the supply chain end and labor end. We had hoped to be open by now, but we're targeting our opening date for early fall."
Park and Elm's dining room will seat 85, and a three-season patio will seat an additional 60. The patio is fully covered and features skylights and electric heaters.
Park Street Hospitality currently employs 15 restaurant and event team staff members. Miller expects to add an additional 6 employees when Park and Elm opens its doors. 
Renovations to 15 Park have also included the construction of 10 apartments on the upper two floors of the building, a former electrical supply warehouse. Cifone Construction of Queensbury is the contractor for the project.
Miller is hopeful that the five two-bedroom and five one-bedroom apartments will be completed by late October. Rents will range from $1,300 to $1,950. 
The cost of renovating the entire building has exceeded $5 million, and that number represents just a portion of what Miller has already invested in the city. 
"Her first building downtown was a smaller building on Ridge Street, and I think she's always felt a real desire to be part of this rejuvenation process Glens Falls has been going through. In the last 10 or 15 years, a lot of people have been investing a lot of money into trying to bring back the character of downtown Glens Falls," said Miller. 
"At one point, Glens Falls was really a destination. I think it's starting to be that again," he added.