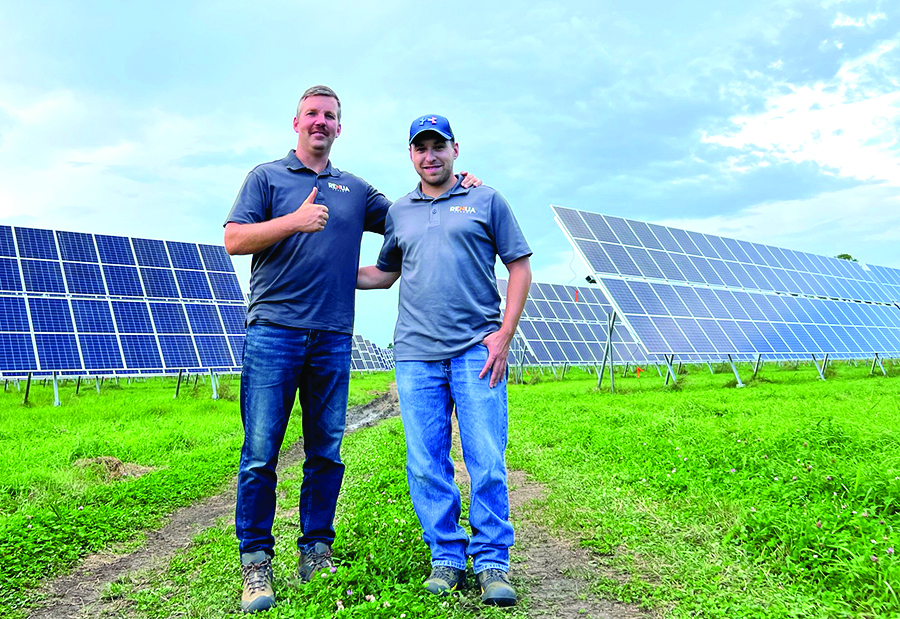 By Paul Post
Dave Byrne's deployment to Iraq and Kuwait gave him a first-hand appreciation for the need to promote energy independence and bolster national security through solar as a renewable resource.
"Without any formal business training or experience, I started working for a Hudson Valley-based solar company as a residential installer and worked my way up from there," said Byrne, a West Point graduate. "Many years later, I decided to start Renua Energy, as I saw a need for certain customer-centric solutions and I enjoy building from the ground up."
In 2018, he left his day job and threw himself full time into the fledging venture with just a handful of employees. Today, the South Glens Falls-based business has 14 workers and has successfully designed and permitted 31 community solar projects across upstate New York that offset the production of nearly 6.2 million tons of harmful carbon emissions.
In short, community solar is a large array of solar panels at an offsite location that allows customers to access such power without installing panels on their homes. Developers build and operate the projects, and energy delivery companies like National Grid purchase and distribute credits generated by the projects to participating customers.
"We play a critical role in the development of community solar projects by providing civil, environmental, survey and electrical design solutions," Byrne said. "In essence, we do everything in order to get projects to the 'notice-to-proceed' stage so that construction can commence. 
"We've played a prominent role in New York's community solar market as the projects that we've worked on will deliver 8 billion kilowatt hours of solar-powered electricity for the upstate electrical grid over their expected 30-year operational lifetime. The environmental benefit is the equivalent of 1,961,751 tons of waste recycled rather than land-filled or 93,745,006 tree seedlings grown for 10 years."
Two years ago, in response to a surge in demand for electric vehicles Renua began installing electric vehicle charging stations, which are now found at many well-known area businesses such as Colonel Williams Resort in Lake George, Binley Florist and Days Inn and Suites in Queensbury, Landmark Motor Inn in South Glens Falls, Birches Motel in Wilton and Dreher Dental in Ballston Spa.
"It's part of our vision to lead the local infrastructure and empower business owners with increased revenue and cash flow," Byrne said. "We provide turnkey solutions for EV charging stations as we do our own sales, permitting, and installations."
Typically, an electric vehicle owner pays for the charge-up of their car, and the host site pays National Grid for the electricity. "However, in certain circumstances, we can structure a deal such that the electricity costs can be reimbursed to the host site," Byrne said.
In addition, EV stations quite often generate extra revenue for the retail shops and stores they're found at, as they tend to attract new and repeat customers. Byrne said 83 percent of EV drivers prefer to shop more frequently at places that have charging stations, and that 89 percent of EV drivers tend to make a purchase while charging at a retail location.
In general, EV stations also identify host businesses as being environmentally friendly and proactive in the quest for energy independence.
Like California, New York state has banned the sale of new gasoline-powered passenger car and truck sales by 2035.
Renua installed several charging stations this summer at Binley Florist, a highly popular nursery and garden center on Dix Avenue in Queensbury.
"Sooner or later, everybody's going to be going electric," Binley's owner Wally Hirsch said. "I feel that it's important for both my customers and employees to start thinking in that direction. By going with charging stations it lets people know that we're forward thinking and not stuck in the past."
Hirsch said he plans to hold some type of retail promotion related to charging stations at a later date.
"In many states right now EV owners can charge their cars when utility rates are lower (off peak) and sell the energy stored in their vehicle's battery back to the grid when the utility needs it most (peak demand hours), which is a win for the EV owner, the grid, and utility rate payer," Byrne said. "Also, when coupled with community solar, an EV owner can charge their car through a renewable source. The grid becomes more resilient with additional distributed generation and storage capacity."
Renua's community solar projects are found across upstate New York, while its electric charging stations range from Westchester County to Lake Champlain and west to Syracuse.
"I've always been passionate about strengthening national security through energy independence and I'm looking forward to making our grid infrastructure more resilient through the synergy of solar and energy storage/bi-directional EV charging stations," Byrne said.
Although motivated by such global, far-reaching issues, Byrne also pays close attention to his most valuable asset, the employees that make his firm's work possible. "We are a small shop, but we are passionate about delivering the best value for our customers and being recognized by them as relentless in our pursuit of excellence on their behalf," he said. "I find real meaning in offering employees opportunities to work hard, excel, and provide for their families and loved ones. We're blessed with having great people on our team and I'm always in search of potential team members who uphold the following company values in all that they do — work ethic, integrity and customer service."