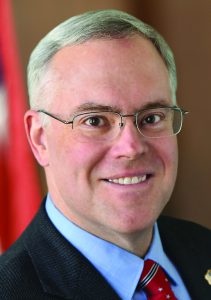 By Sen. Dan Stec
As state lawmakers head into the 2023 Legislative Session, we must chart a better direction for our state and communities. Years of neglect and poor state planning, combined with the aftermath of the pandemic, have led to an exodus of New Yorkers from our state and fewer opportunities for existing residents and business owners to prosper. 
Given the uncertain economic outlook nationwide, it only makes sense for New York state to offer small businesses some sorely needed financial breathing room by reducing the taxes and fees that drive up costs and make it harder for them to stay open, much less grow and develop. During a time of increased energy and supply costs, it's incumbent upon state government to not exacerbate these problems.
Last year, the state comptroller released an audit on the Department of Labor's unemployment insurance assessment surcharge. It revealed that billions in improper payments from businesses and overpayments to New Yorkers were issued, due to poor oversight and an antiquated system. 
This is deeply troubling, and I'm looking to remedy this situation moving forward. First, we must take steps to shore up the infrastructure and operations at the DOL to ensure further waste and fraud is prevented. Offering financial remuneration to small business owners for their overpayments, which only exacerbated the economic difficulties they faced during the pandemic and its aftermath, is also essential. 
With the decrease in taxes, there must also be a decrease in state spending. For too long, New York state government has treated business owners and residents as an ATM for its costly, often ineffective bureaucracy and agenda. Instead of funneling money into top-down initiatives and controversial economic development programs, financial resources are better left in the hands of those who actually create jobs and opportunities in our communities.
Along with affordability, state government must ensure expanded opportunities for economic growth. Crucial to that is finally making affordable, high-speed broadband and cell phone service a reality. 
Last year, I helped to pass a repeal of a costly fiber-optic tax that made it near-impossible for broadband to be installed in rural communities in our region. With that eliminated and an ongoing state investment, this should be the time to finally ensure 100 percent (or close to that mark) broadband access. Having it is an essential tool for new and developing businesses alike, connecting them to potential customers and resources they may not otherwise have access to. 
Ideally, our economy should reflect our local character and attributes. For the North Country and Adirondacks, that means taking advantage of our natural resources and beauty. Continuing to allocate resources to combat Lyme and tick-borne diseases remains a major focus, so our trails remain safe for hikers and tourists. Protecting our lakes and waterways is also a must. 
To that end, we will continue to combat invasive species and educate boaters on the need to protect our waterways from invasive species and preserve our local ecosystems. By maintaining that commitment, we can ensure our ecosystem remains a vital tourism and economic hub.
This year presents a crucial opportunity to turn those fortunes around and improve our economic outlook. 
The signs of growth and potential are there. For example, the 2023 FISU World University Games will be a boon for Lake Placid and surrounding communities. Our tourism industry continues to succeed. And with the proper planning and policies, we can help create good-paying careers in housing and construction, manufacturing and other sectors.
I'm confident that we can make strides towards accomplishing that and build a vibrant, lasting economy right here in this region.