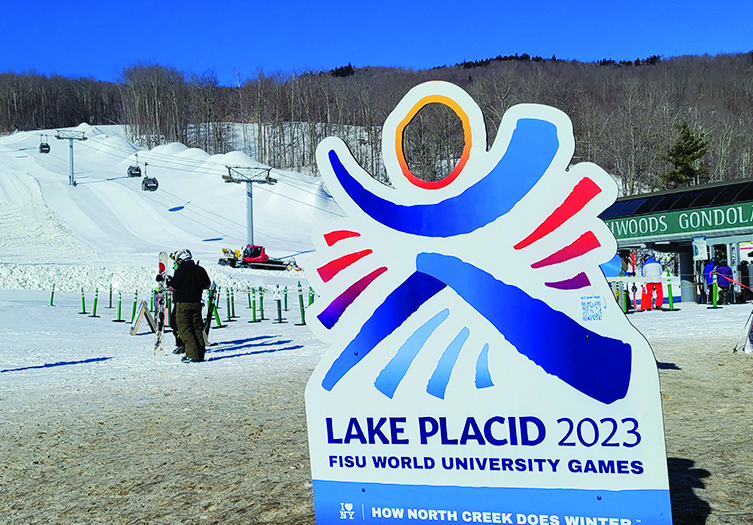 By Paul Post
The Lake Placid-based, January 12-22 World University Games are having a direct economic impact on the entire North County including Warren County as Great Escape Lodge in Queensbury is the official athlete village for 200 people taking part in freestyle ski events at Gore Mountain.
This includes athletes, coaches, delegates and officials from more than two dozen countries.
"We worked closely with community and state leaders to provide a bid for the opportunity to host this amazing event," said Jennifer Mance, resort marketing and sales manager. "We're honored for the opportunity to provide a fantastic experience for visiting athletes. While the popularity of our property is year-round given our indoor waterpark, we are proud to support this event along with our entire region and believe it will have a positive impact for many businesses in our area for the duration of the Games."
Equally if not more important for Warren County tourism, ESPN will broadcast competition around the globe, providing priceless exposure that pays dividends by attracting visitors for years to come.
"North Creek has seen increased advertising and marketing that will have a lasting impact, long after the Games," said Jon Lundin, Olympic Regional Development Authority spokesman. "On January 18, the resort and community will receive nationwide exposure from ESPN2's live broadcast of slopestyle skiing at Gore."
And TSN, a property of ESPN, is the official digital and television host broadcast partner to the Canadian market, a major contributor to local tourism, one of the county's biggest economic engines.
All told, about 2,500 athletes and coaches from 50 countries are taking part in the Games, mostly in Lake Placid, although preliminary hockey rounds are slated for Potsdam as well, providing a region-wide economic impact.
Lake Placid, because of its small size and how much the Olympics have grown, could never host the Olympics again on its own. But the state recently spent $500 million upgrading ORDA venues, including Gore Mountain, so they're once again ranked among—if not the best—winter sports facilities in the world.
"Certainly the economic impact from these Games has been happening for the past four years with construction and development," said Jim McKenna, CEO of the Lake Placid-based Regional Office of Sustainable Tourism. "Certainly there's going to be an impact from visitors to the Games. But the real goal of these Games was to get these facilities in a position where they're established for international events for many years to come. The way these venues are now, they're positioned very well for many more international sports events over the next 40 years."
So a successful World University Games could put Lake Placid back in the running as an Olympic host site, but as part of a broader New York state event, possibly including Warren and Saratoga counties as well.
Under the most obvious scenario, ski jumping, alpine skiing, speed skating and sliding competition would be held in Lake Placid, with glamorous figure skating and high-profile hockey games taking part in New York City.
"But there's many possibilities when you look at the corridor between New York City and Lake Placid, even Saratoga Springs where there's an international-size rink for short-track speed skating," McKenna said.
Even smaller arenas such as Cool Insuring Arena in Glens Falls could be used for preliminary hockey rounds. In December 1979, the eventual gold medal-winning "Miracle on Ice" U.S. Men's Hockey Team played an exhibition game against the Adirondack Red Wings in Glens Falls, leading up to the 1980 Winter Olympics.
"Clearly there's been a different direction, right up to the International Olympic Committee level, where they're looking at Winter Olympics on a more regional basis now," McKenna said. "The best example is the 2026 Winter Games scheduled for Milan and Cortina, Italy, about a 280-mile drive apart. Milan will host indoor events, while the Cortina region is used for outdoor sports. There's also a sliding track there."
So how far into the future might this be for the North Country? Salt Lake City, which hosted the 2002 Winter Olympics, is the leading U.S. contender for having the Games in 2030 or 2034.
"Assuming Salt Lake City is successful with either of those years, that makes the window for New York possible in 2042 or 2046," McKenna said. "It sounds like a long time away, but the process for the 1980 Games in Lake Placid started in 1968, so it's not unprecedented."
No matter what happens on the Olympic front, there's no question the World University Games are helping the Adirondack region including Warren County.
"The biggest thing this is going to do is give us a chance to showcase ourselves to the world," said Lake Placid Mayor Art Devlin, Jr. "When you can welcome the world to your community that's pretty special. And anytime people from different countries get together, talk and see each other, the more they understand each other."
That's one benefit that doesn't have a price tag.