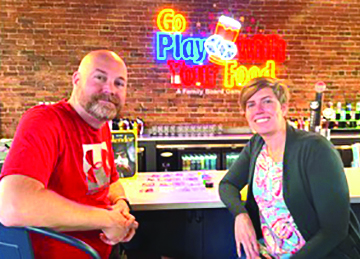 By Christine Graf
A mecca for game enthusiasts, Go Play With Your Food is now open at 126 Glen St. in Glens Falls. The family board game tavern opened its doors at the end of April.
Co-owner Mark Shaw, president of Queensbury-based IT consulting firm Stored Technology Solutions, and his wife, Kristen, came up with the idea for the business while living in North Carolina where they have a second residence. All it took was one visit to a local board game tavern for the entire Shaw family to be hooked.
"We went and played every other weekend, and our kids absolutely loved it," said Shaw. "I have two boys, 9 and 10, and a daughter who is turning 13. I saw how much fun they had, and I wanted to share that fun with everyone else."
Go Play With Your Food's ownership group also includes Charles Ives, Kevin Malinoski, Angela Sweet and Jason Wescoat.
"A lot of them are coworkers at StoredTech," said Shaw. "We used to do game days on weekends, and I said, 'If we open a board game tavern, do you guys want to be part of it?' They all said they did."
It was out of a desire to be part of the revitalization of downtown Glens Falls that they chose 126 Glens St. as their location. The former TV-8 building was purchased by Elizabeth Miller in 2022.
 "When Elizabeth Miller bought the building, she spent a significant amount of money on renovating the building," said Shaw. "We've probably invested a quarter of a million dollars ourselves."
Although the family-friendly tavern does not serve hard liquor, patrons can choose from a large selection of craft, domestic, and draft beers. The drink menu also features mead, wine, hard seltzer, and hard cider. Food offerings include appetizers, sandwiches, salads, flatbread pizzas, and desserts. All menu items are priced at $12 or under. 
"There are a lot of nice five-star restaurants in the area, and we aren't trying to compete with them," said Shaw. "We want our food to be fresh and reasonably priced. We want a family night out not to cost a small fortune."
Table rentals cost $10, and patrons can stay for as long as they want. A private party room that seats 10 is also available at a cost of $50 per day.
According to Shaw, "We don't try to push people out and aren't looking for big turns in the tables. Yesterday, we had five tables of people who played for about four hours."
The 4,000-square foot space can accommodate 86 patrons in the dining room and an additional 20 at the bar.  There are more than 600 games to choose from, many from the Shaw family's personal collection. 
Go Play With Your Food is open 7 days a week. Hours are Monday-Thursday 3-9 p.m. and Friday-Sunday noon to 10 p.m. Reservations are recommended but not required and can be made via phone or email.  An online reservation system is in the works. For more information, visit www.goplaywithyourfood.com.