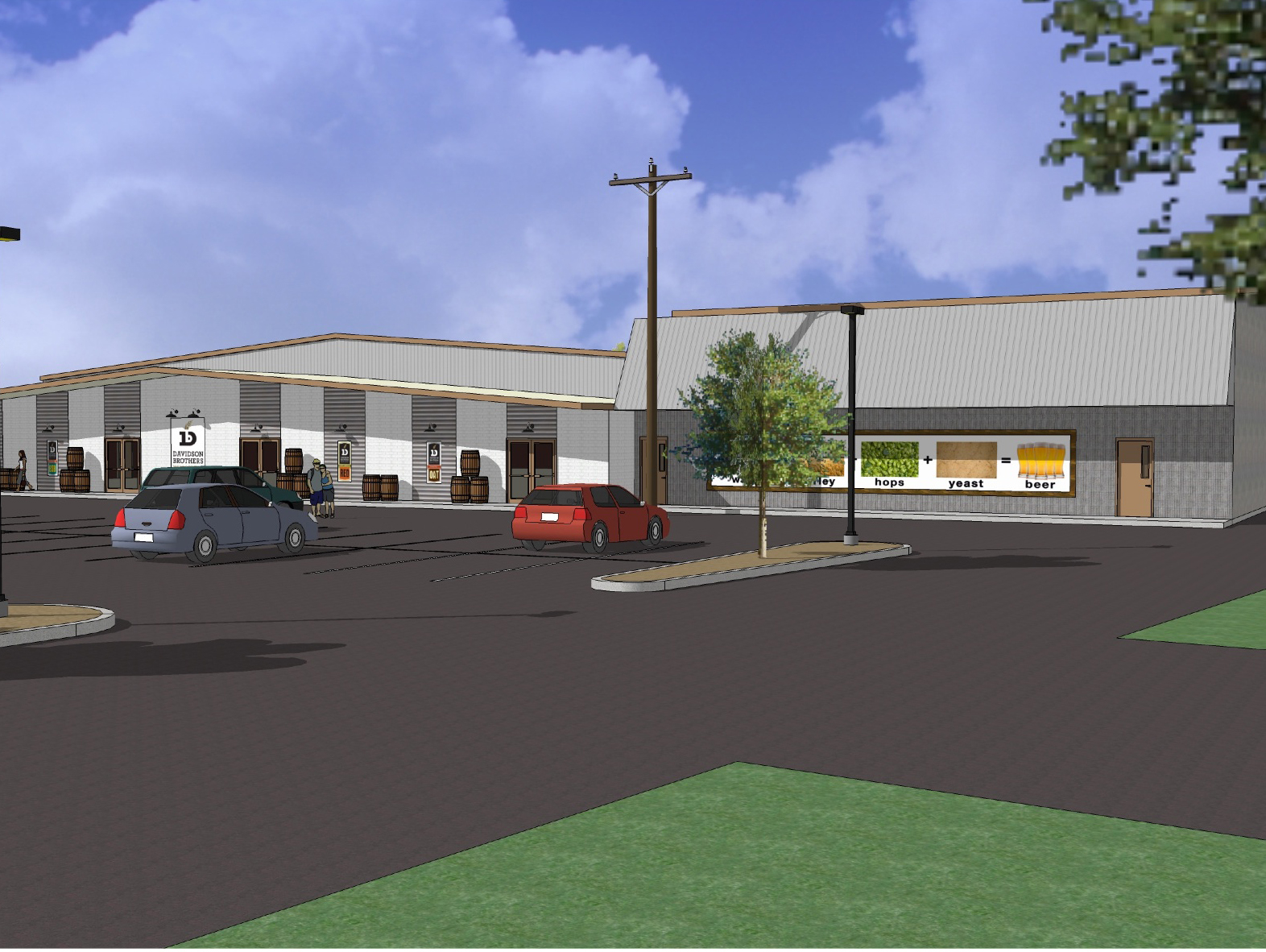 By R.J. DeLuke
Davidson Brothers Brewing Co., a vital presence in downtown Glens Falls since 1996, is in the process of building a new craft brewery, a $4.2 million project that will be located in Queensbury.
Brothers Rick and John Davidson, founders and owners of Davidson Brothers Brewing Co. at 184 Glen St., announced plans to build a 20,000-square-foot brewery on land at 1043 Route 9, formerly a multi-screen movie theater and currently home to The Sports Zone and Replay Sports retail stores.
Rick Davidson said the property acquisition should be completed by June. He should have the necessary approvals from the town of Queensbury by early May. Once that is done "construction will begin immediately," he said.
Munter Enterprises in Middle Grove is the general contractor for the project. Davidson said it would be a 26-week construction schedule and the brewery could be open in December. It will initially employ six to 12 people.
The project will include a 50-barrel brew house with packaging and kegging lines. A visitor tour experience will include a tasting room and company store. Accommodation of tour buses is planned.
"We are very excited Davidson Brothers has chosen Queensbury as home for their new brewery and company store," said Queensbury Supervisor Ron Montesi. "Their brand is well-known and their brewery will be a welcome addition to visitor attractions located within the town."
Davidson said initial production capacity will be approximately 10,000 barrels or 138,000 cases per year.
The brewing company is an independent, family-owned business. Davidson said that since they purchased the building, 130 years old at the time, one of the goals has been to help make the community a better place. He feels the high-traffic location on the part of Route 9 where the new plant will go offers "tremendous opportunity" for drawing people to the area. He said it will give the Glens Falls-Queensbury area one more thing that will help draw tourists to the community and keep them there for a time.
Davidson, referring to the state's Pride of New York program, added that "we're pleased with what we've seen from the (Andrew) Cuomo Administration" in terms of supporting people and entities that are selling product in New York state.
He said Davidson Brothers buys local product whenever possible, and if it can't be local, they try to buy U.S. product.
"If we all start doing that, what a tremendous boon to our state," Davidson said. The Pride of New York Program was developed to promote and support the sale of agricultural products grown and food products processed within the state. Its growing membership now includes farmers and processors, retailers, distributors, restaurants and related culinary and support associations.
Davidson Brothers initially brewed all its beer on the seven-barrel brew system in the Glen Street brew pub, but quickly ran out of capacity. Since 2001, Davidson Brothers beers have also been brewed at Shipyard Brewery in Portland, Maine. Davidson said the Shipyard brewery has grown its business so much, it is running out of capacity to work with Davidson Brothers. So the time is right for the project.
He and his brother John, "are scared. There's a tremendous amount of responsibility. We borrowed a lot of money. But that said, we're very excited." The Glens Falls and Queensbury areas "have not come close to realizing their potential for economic development and attracting visitors," and the brewery will help in that regard.
The brewery "is truly fantastic news for the economic engine of Warren County and the region" said Charles R. Barton, chairman of EDC Warren County. "Not only are the Davidson's bringing current out-of-state production into Warren County, but they are adding another exciting dynamic to their business. The positive impact to our tourism product will be heralded."
The company will continue to operate the popular restaurant and brewery in Glens Falls. Davidson Brothers Brewpub is home to the first and only authentic Peter Austin Brick Kettle British brew system installed in any brewpub in New York.
"We chose this rare brew system with its traditional open-top fermentation because with it we can handcraft truly world-class beers," said John Davidson. "We chose Shipyard as our contract partner because they brew on a Peter Austin (system) as well. Our new Queensbury brewery will house the second-largest Peter Austin system in the United States, the largest being Shipyard's."
Design, custom fabrication, installation and commissioning of the Queensbury brewery's system will be overseen by acclaimed master brewer Alan Pugsley, originally of England's famous Ringwood Brewery and co-founder of Shipyard Brewing.
With Peter Austin & Partners and his own Pugsley's Brewing Projects, Pugsley has overseen the design and installation of over 70 Peter Austin brew systems worldwide, according to Davidson.
The brothers Davidson conceived the idea of opening a brew pub during a visit to Baltimore, Maryland's Wharf Rat brew pub in 1993. At the time, there were less than 500 breweries in the U.S. Since then, microbreweries have experienced explosive growth. Today there are well over 2,200 breweries operating in the country with more than 1,000 planned, said Rick Davidson.
"Craft brewing is growing exponentially," he said.
According to the Brewers Association, craft beer volume rose 13 percent in 2011 and another 12 percent in the first half of 2012. Davidson Brothers Brewing has experienced double-digit volume growth each of the past three years with sales volume more than doubling in the past 24 months, according to Rick Davidson.
Davidson Brothers beers are distributed throughout seventeen counties of upstate New York as well as throughout New York City. The largest distributor of Davidson Brothers beers is Saratoga Eagle Sales & Service of Saratoga Springs, covering an area from the Capital District north to Massena.
Rick Davidson said the hope is that distribution can grow even more with the new brewery.
More information is available at the company website, www.davidsonbrothers.com.