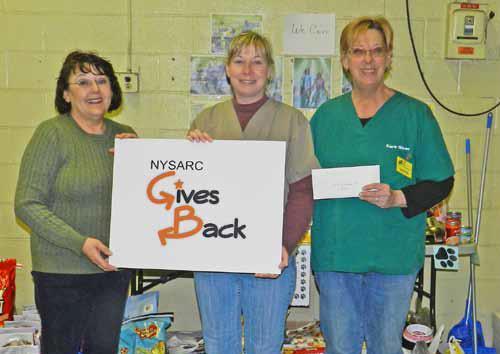 WWAARC, the Warren, Washington & Albany Counties Chapter of NYSARC Inc., recently participated in the statewide President's Project Week in March as part of the ongoing NYSARC Gives Back initiative.
Envisioned and championed by NYSARC President John A. Schuppenhauer, the goal driving the project is to collectively conduct volunteer programs across New York state during a week in March in order to give back and benefit the unique needs of each community.
The SPCA of Upstate New York was chosen for the project by Anne Marie Lockhart, WWAARC board president and volunteer. It was planned to benefit pet owners who may need assistance in feeding their animals.
The effort was carried out in cooperation with the SPCA of Upstate New York. Officials said it was WWAARC's way to say "thank you" to the residents of Warren and Washington counties by using the strength of its 350 employees and over 40 facilities sprinkled across communities by asking their employees to assist in the collection of pet food and supplies. "This community has supported us for over 50 years and this is one way that we can say 'thank you' by helping the SPCA, another local worthwhile not-for-profit agency," Lockhart said.
NYSARC, Inc. is WWAARC's parent organization, which has 55 local chapters throughout New York state. Officials said all chapters initiated similar efforts in their local communities. WWAARC provides services, advocates for and offers opportunities to over 300 individuals with intellectual and developmental disabilities and their families, enabling them to realize their full potential in local communities.