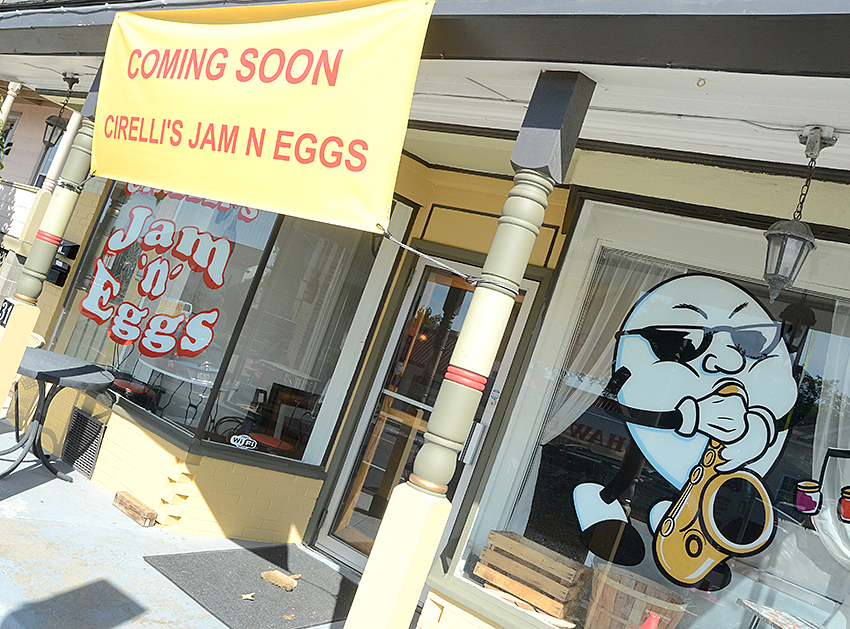 BY JENNIFER FARNSWORTH
The owners of the Italian eatery Cirelli's Osteria
are venturing into the world of breakfast diners.
Michael and Kathleen Cirelli are opening Jam
N' Eggs, a restaurant dedicated to solely breakfast
and light lunch dishes.
Michael Cirelli said the former owners of the
building that will house Jam N' Eggs, at 31 West
Main St. in South Glens Falls, left the structure in
perfect walk-in ready condition.
"We really didn't need to make very many
changes. It really is the perfect spot and size for a
place to stop in and grab breakfast," said Cirelli.
Jam N' Eggs is scheduled to open in early
October.
The Cirelli's also operate the restaurant Cirelli's
Osteria near the Route 9 bridge in South Glens
Falls, which they opened in 2013.
Jam N' Eggs will be open daily from 6 a.m. to 2
p.m. and will serve a full breakfast and sandwiches
in the afternoon. In addition, Cirelli said they will
have seasonal favorites such as chili and soups for
the cooler months.
The breakfast portion of the day is what Cirelli finds he is most excited about.
"Breakfast has always been my favorite meal.
Eggs Benedict, omelettes, pastries, coffee, we will
have it here. We also want people to know it will
be a great place to grab a quick breakfast if that's
what they need," said Cirelli.
He said they will have breakfast items, including
coffee and breakfast sandwiches to go. He noted
even the quick-serve items will be completely
homemade.
"Everything, everything, is made from scratch,"
said Cirelli.
Cirelli said the business will have four to five
people on staff to start off.
Cirelli was born in Bologna, Italy, and has
worked to bring his creative Italian cooking style
to the Glens Falls area. His family history goes back
to Mulberry Street in New York City, starting with
operating fruit carts and advancing to restaurants
in Manhattan and Queensbury, where he once
operated his own eatery called Villa Nova.
Cirelli was executive chef at the Georgian Resort
in Lake George. He was also the chef at his family's
Luisa's Italian Bistro in Moreau for four years.