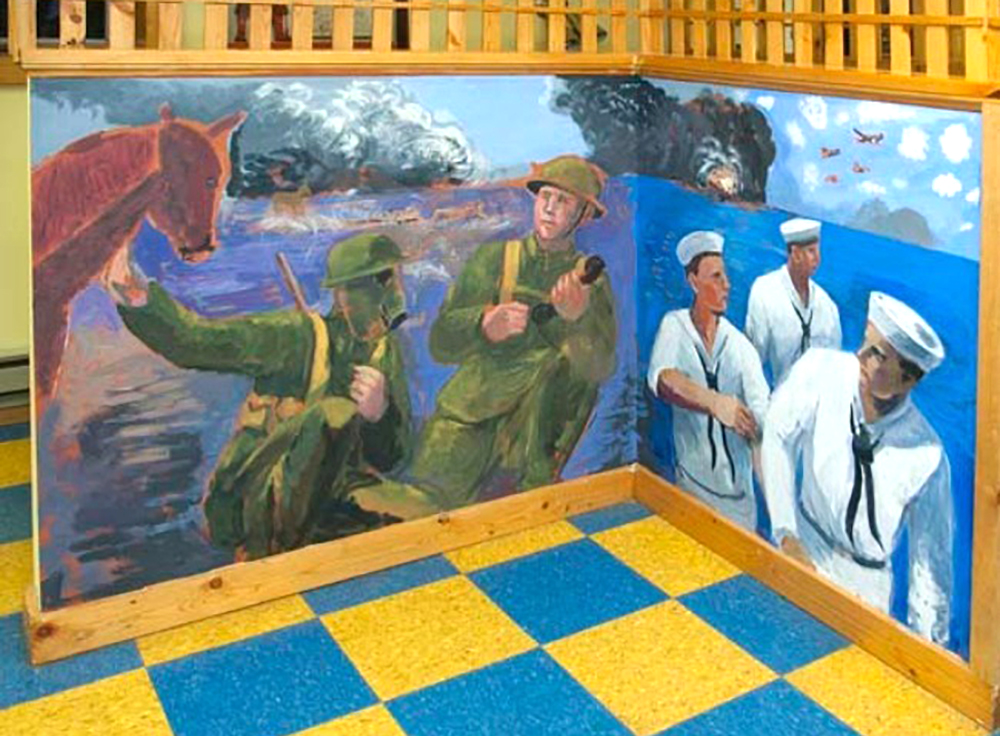 By Lisa Balschunat
This year, when many nonprofit organizations had to close due to the COVID-19 pandemic, Amorak Youth found a way to carry on to serve middle and high school students in Hudson Falls and Fort Edward in safe and fun ways.
Amorak offered Circus Smirkus magic classes via Zoom in late spring, Paintbrush Expedition painting classes at home in August, online music lessons throughout the summer and early fall, and the first Apples to Zucchini 1K Relay in October to encourage outdoor family activities and help stock local food pantries.
For 12 years, the small nonprofit has offered Hudson Falls and Fort Edward teens and younger children creative classes and programs that fosters self-awareness, self-confidence and a sense of community. Grants, corporate and individual contributions have supported its programs and classes so Amorak can offer its programs free of charge.
Run by a nine-person board and a part-time administrator, Amorak provides youths an alternative to the phrase "there isn't anything to do."
With a mission of "helping youths achieve positive life changes through recognizing their unique needs and capabilities while providing a sense of connection with the larger community," Amorak designs programs or works with existing programs that draw upon the strengths of each person, fostering a sense of pride, loyalty and strength.
"Amorak has the potential to get kids involved in programs in an environment where school are cutting back on music and the arts," said executive board officer Dr. Kathleen Braico. "The arts are a very important part of a child's growth and self-expression. Children can modulate emotions through art. Worldwide, adults have had to process and regulate their emotions during this pandemic. Children have to work through it, too."
"We want youths to be engaged in their community," Braico said. "That can take on many different forms with Amorak."
Amorak's Hudson Falls Hometown Heroes program partners with area schools, fire departments, the American Red Cross, emergency medical technicians (EMTs) and ham radio operators to teach teens about local emergency volunteer and career opportunities.
Amorak also offers an emergency preparedness program through the Center for Disease Control (CDC) Zombie Apocalypse manual that sets up realistic scenarios of a disaster and how people have to work together to survive.
"The teaching tool is woven into a creative and engaging situation that teens can have fun with while learning the basics of protecting public health," Braico said.
Over the past decade, Amorak has had to re-tool its offerings to meet the needs of the teens. The group recently began offering free tutoring for high school level math and chemistry. Tutors and music instructors receive payment from the organization, but families are never charged. Most recently, Amorak aligned with the LEAP Outdoor Adventure Program in Washington County.
This year, Amorak amped up its Facebook page during the pandemic to give families COVID-19 fun and safe activities. The group also launched a new website and with a new logo with its wolf mascot, thanks to Mannix Marketing and Black Dog Designs, respectively.
Amorak operates with an annual budget of $27,000 and relies on volunteers, grants and donations from supporters including Calamity Jane's Firearms and Fine Shoes, Eight Pines PR & Marketing, Lower Adirondack Regional Arts Council (LARAC), Hudson River Brewhouse, Saint-Gobain, Stewart's Shops, Spectrum Plastics Group, The Strand Theater, Tops Furniture and Underwood Park CrossFit, as well as contributions from Adirondack Community Trust, Charles R. Wood, The Sandy Hill, Frank Smith and Touba Family foundations.
"The business community has been a great support of our mission and efforts," Braico said. "We have some awesome programs on the horizon and look forward to having Amorak kids participate, when it is safe to do so, in the Fort Edward Fishing Derby, Citizen Science Stream Program for elementary students and our Kindness Klub for preschoolers," she added. "We will again offer hiking and kayaking outings when this pandemic is in our rearview mirror."
Businesses interested in sponsoring an Amorak program can contact administrator Catrina Scott-Becker at amorakyouth@gmail.com, or visit www.amorakyouth.org.